I've written over 100 books and countless articles. I've helped many 6 figures businesses increase sales by using my text. I have over 100 5-star ratings on Fiverr. I'm a self-published author and a professional writer since 2008.
WordPress Freelance Writer For Hire
Do you need WordPress books, SEO content, or copywriting?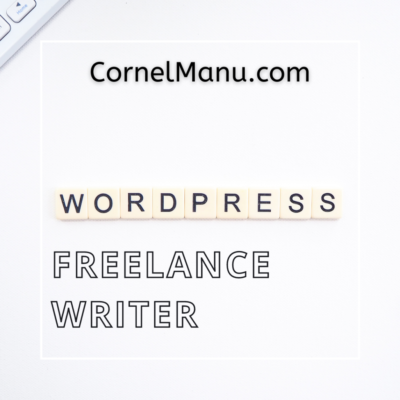 You are in the right place.
I am Cornel Manu, a freelance writer with over a decade of experience and 120+ positive reviews online.
WordPress is a subject I am very passionate about, as I've been using this platform for building all my websites since 2012.
I have great experience with WordPress plugins, themes, and even editing. I've customized all the websites I have using PHP, CSS, and HTML.
Learning a lot about WordPress over the years and putting that information into practice, I have the knowledge to write great WordPress articles, tutorials, books, and any other type of content.
Why You Should Hire Me as Your WordPress Writer
● I've ghostwritten over 20 books on this topic alone, with subjects like WordPress for Beginners, SEO WordPress, Best WordPress Plugins, and more.
● I've ghostwritten SEO articles for popular websites like WPBeginner, WPBlog, WPLift, and WPExplorer.
● I know WordPress like the palm of my hand.
● I can create amazing tutorials for WordPress regarding SEO, plugins, themes, WooCommerce, best practices, and more.
WordPress portfolio:
● Best WordPress Hosting For Your Niche Site
● 15 Must-Have WordPress Plugins For Your Niche Site
● How To Create Your Niche Site With WordPress
● Best Premium WordPress Themes For Your Niche Site
As you can see, I have a lot of experience in this niche, and you will get content that is well-researched and informative.
I am the WordPress writer you need and deserve.
Check out my homepage to see my 120+ reviews, my rates, and everything else you need to know about what I can do for you.
I can write for you amazing books that you can sell or give away to your audience, SEO content that drives a lot of organic traffic and copy that sells your products or services.