SEO Article Writing
I've written over 100 books and countless articles. I've helped many 6 figures businesses increase sales by using my text. I have over 100 5-star ratings on Fiverr. I'm a self-published author and a professional writer since 2008.
SEO Content Writing
Do you want to get unlimited organic traffic for your business?
Do you want to engage your audience and gain their trust by providing amazing content?
If the answer is YES, you need my content writing service.
No matter what industry you are in, all businesses need traffic.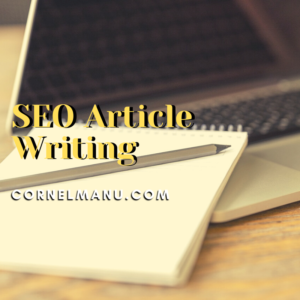 Paying for ads is expensive; you need a source of traffic that is constant and free.
That's why you should publish SEO articles written by a professional writer with over 10 years of experience.
My articles are:
● Well-written and with a lot of research done.
● SEO improved to get you the most amount of organic traffic you can get.
● Written to connect with your audience. They will feel like they know you and want to connect with your brand.
● Highly engaging to maximize the interactions you get from your audience, meaning the comments, shares, and likes.
● 100% hand-written original content. Nothing rewritten, spun, or generated by a software.
I research your target audience, the subject of your desired content, the keywords that can be used, and I compile amazing SEO articles that bring you the organic traffic you need.

Google LOVES great content.
They keep into account things like time spent on page, bounce rate, and other metrics to determine which content is the best for their users.
The time when you could simply write mediocre content, hit a word count, and use some keywords to rank are long gone.
Now you need SEO content that truly ENGAGES your audience.
If your visitors love it, Google will rank you well.
I have a decade of experience in SEO content writing. My content not only please search engines, but also engages your audience and serve them the type of information they need.
See my portfolio to see what I can do and my 120+ reviews to see what clients say about me.
Best Price On The Market - €0.20 per Word
I got discounts for bulk orders - contact me to find out more.
I take a limited number of clients each month and I get booked quickly
Contact me now if you want to work with me.