I've written over 100 books and countless articles. I've helped many 6 figures businesses increase sales by using my text. I have over 100 5-star ratings on Fiverr. I'm a self-published author and a professional writer since 2008.
SEO Copywriting - How to Get Organic Traffic and Sell Like Crazy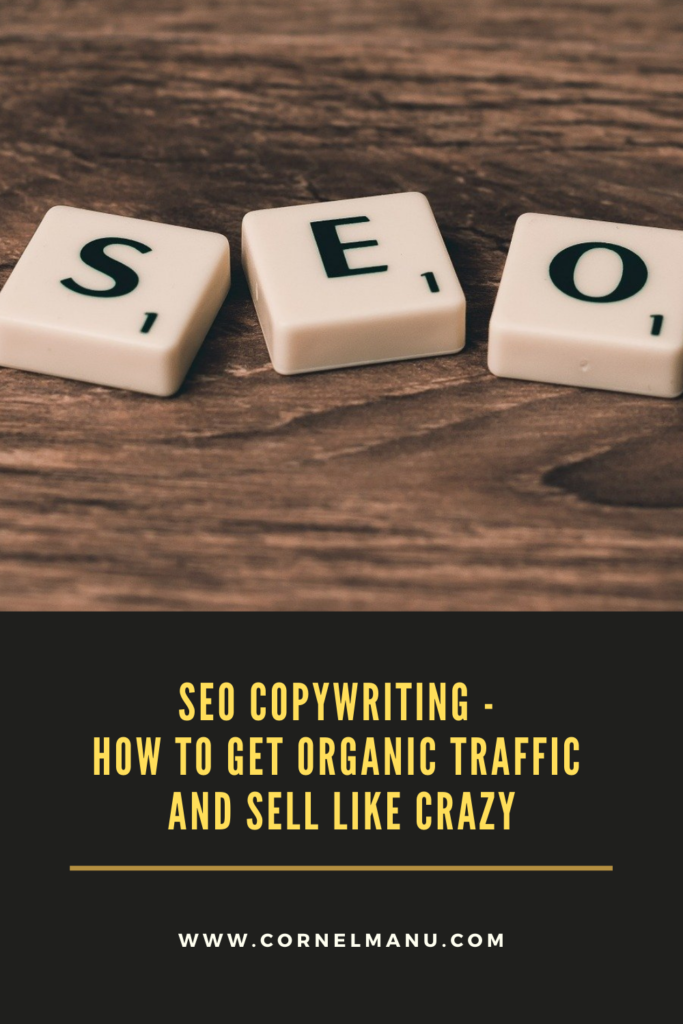 It's a good thing to know SEO.
You get more traffic to your business.
It's also a good thing to know copywriting.
You can persuade your visitors to buy.
But when you do both…
That's a game-changer!
SEO copywriting is the art and science to drive organic traffic from search engines while using text that prompts your visitors to purchase your product or service.
And it's a vital part of your SEO strategy!
You see, everywhere you have text, on your homepage, category pages, product descriptions, contact pages, about us pages, you have a chance to drive big amounts of traffic and convince your prospects to become customers.
If you don't…
Your website will fall behind your competitors in Google's results.
And you know how bad is that for your business.
Traffic is the core of your business, no matter what industry you are in and what you sell/promote.
Without traffic, you are trying to sell warm donuts to no one.
They are delicious, but there's no point if no one sees them.
And when you get that traffic, does your text compels the visitors to stay?
You have 5 seconds to capture your audience!
That's it…
After 5 seconds, your audience is hitting the back button if they are not convinced.
So you don't need just a content writing service, you need an SEO copywriting service.
You need someone that can bring that Google juice to your business and seal the deal.
SEO Copywriting Is More Than Using The Right Keywords
Do you remember those times when you could stuff your website with keywords and that was all you needed?
I remember it and I feel old thinking about it.
Yes, it was easy, but those times are long gone.
Now, keyword-stuffing is the easiest way to derank your website forever.
(Don't do it!)
You can use long-tail and LSI keywords everywhere you can, but that is not enough either.
The Google algorithm is now able to "understand" what is your website about much more easily.
You need to use long-tail and LSI keywords in the RIGHT WAY.
You have to meet the demands your target audience is having.
And you need to make your audience STAY because on-page ranking factors like time spent on page and bounce rate are crucial to your SERP.
A Good Copywriter Anticipates What Your Audience Needs Are
You can't sell to people you don't know.
You need to know their needs, fears, questions, and aspirations.
And then meet these needs and aspirations with amazing text.
You also need to make your target audience LOVE what you have to offer.
Because people don't buy meh products. They buy WOW products.
Therefore, SEO copywriting is about meeting Google's needs and your audience's needs.
And since the big G is getting more focused on their audience needs as well, you can see why it's so vital for a company to have amazing SEO copywriting on your website.
Where Can You Find The Best SEO Copywriting Service
I am Cornel Manu, an SEO copywriter with over a decade of experience.
I'm an expert at writing content that not only ranks well in Google but also persuades your target audience to make a purchase.
I can help you have content all over your website that is making you money.
Imagine that… every product description, every page and every piece of content on your website will bring you traffic and sales.
24/7, 365 days.
If you don't use SEO copywriting to drive more traffic and more sales to your business, you are going to lose clients because your competitors use it.
The fact you found this page on Google is the proof I know what I'm talking about. I'm driving traffic in a very competitive niche with a single page.
Read more details about my SEO copywriting service and contact me to find out more about what I can do for you.