I've written over 100 books and countless articles. I've helped many 6 figures businesses increase sales by using my text. I have over 100 5-star ratings on Fiverr. I'm a self-published author and a professional writer since 2008.
Increase Your Business Profitability With My Copywriting Service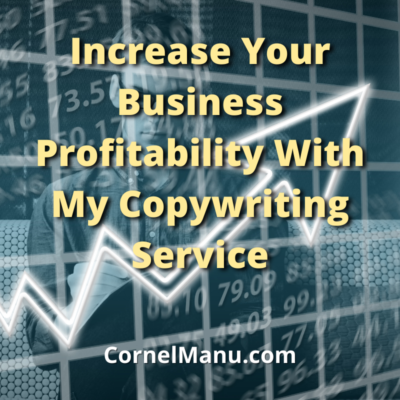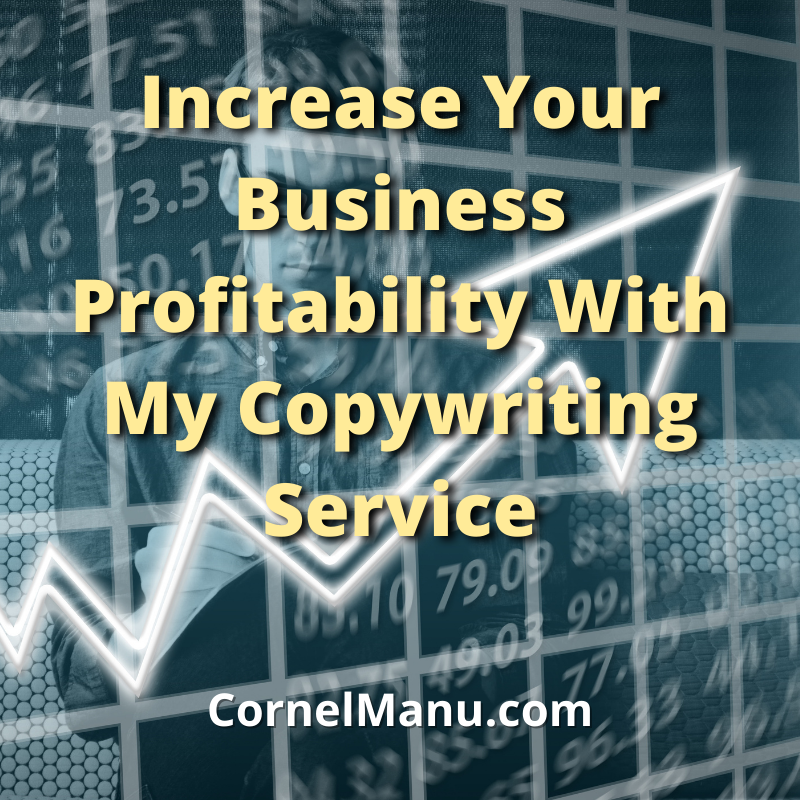 Are your business sales low and you have no idea how to increase sales conversion?
Do you plan on launching a business and you want to make sure that your text is optimized to generate sales?
If you said YES to any of them, you need a copywriter with experience and skills to help you generate the most amount of sales with your business.
You see…
The text you have on your website, social media profiles, ads, and emails is the key to your business success.
We call this text "copy".
If the copy you have is compelling and effective, people that visit your business will convert into customers. Simple as that.
But if the copy you have is not effective, you are losing a lot of money. Businesses go bankrupt over badly-written copy.
Think about it.
When was the last time you bought a product that had bad text on their ads or website?
…
Probably never. Because the copy is supposed to persuade us to make the purchase.
When you think about a good salesman, you think about a smooth-talker. You think about someone charismatic and respectful.
You think about someone that knows how to tell you what features of that product or service matters for you.
This is how good copy would look like as a person.
Bad copy would look like a rude person that doesn't know how to articulate words and tries to force you to buy something, with no regards to your needs.
You have a couple of seconds to capture your audience, and bad copy will make your prospects leave the website faster than it fully loads.
This is why you need a copywriter with a silver tongue and a lot of experience in the psychology of selling.
You need a copywriter that can take your existing business and improve the copy so you make more sales. This is how you unlock your business potential.
Or this is how you make sure that your business is going to launch at full potential, with optimized content ready to turn visitors into paying fans.
That's why big businesses spend a lot of money on copywriters.
Because the profits a good copywriter can generate are much higher than what you pay for them.
On the other side of the coin, the money you lose is much more than the payment for a copywriter.
I have over a decade of experience in copywriting and I've helped top brands from all over the world to sell their products or services like crazy.
I always research your audience, industry and competitors to write amazingly informative and compelling copy.
I put myself into your prospects' shoes to better understand what they need to see in your brand to understand that is what they need.
Your business image will be immaculate and professional, and your sales will be highly-optimized.
Throwing a lot of traffic on your business won't solve the problem if the selling engine is stuck. Stop wasting money on ads if your business is not converting.
Hire me to use my copywriting skills to improve your copy and take your business to the next level. Let's unstuck that sales engine!
I can write for you:
PRINT
✔ Magazine Ads
✔ Newspaper Ads
✔ Direct Mail
✔ Brochures
✔ Flyers
✔ Billboards
DIGITAL
✔ Email Funnels
✔ Website Copy
✔ Landing Pages
✔ Sales Pages
✔ Social Media Ads
✔ Product Descriptions
✔ Banner Ads
Check out my homepage to see my prices or use the contact page to get in touch with me. I take a limited number of clients each month, so hurry up to reserve your spot.