I've written over 100 books and countless articles. I've helped many 6 figures businesses increase sales by using my text. I have over 100 5-star ratings on Fiverr. I'm a self-published author and a professional writer since 2008.
Book Marketing Plan Before Launching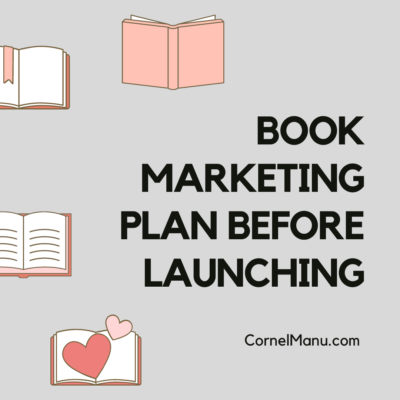 Book marketing should start before publishing the book.
This is necessary even if you publish your book traditionally or you self-publish it. Marketing is a very essential part of making your book a bestseller.
Sure, the quality of your book is also important. But a book doesn't become a bestseller based on the quality alone. Or you need to wait a couple of decades for that to happen.
As a professional ghostwriter with over a decade of experience, I know what needs to be done to promote a book.
You need to give yourself the best chances as an author to become known and proper your authorship career as high as possible.
You should start this marketing plan as soon as possible. The more time you have to apply it before publishing the book, the better.
Here is my 14 steps plan to promote your book before launching it!
    1. Create an author bio and identity that you will use on all your profiles and books. Your author name CAN be different from your real name. The author bio just needs to include a little bit of information about yourself, so you can make a connection with your readers. They would want to know who you are as a person, even if your name is fictional.
    2. Create social media profiles (pages) on Facebook, Twitter, Pinterest, and Instagram, with your author profile. Don't use a Facebook profile, make a Facebook page!
    3. Create an author profile on https://www.goodreads.com. Add as much information about you as possible, including links to your social media accounts.
    4. Link your Instagram profile to your Twitter profile. You want to post on Twitter every Instagram update.
    6. Join Facebook groups around the book topic. Participate in meaningful conversation there (for now). 
    7. Create a free blog on Blogger, WordPress or Tumblr with your author bio and some images you posted on social media. You can put your blog's link into your social media profiles. (create a link with your author name in it, for example I would have cornelmanu.wordpress.com)
    9. Post on social media profiles at least once a day. Participate in conversations around your book topics and follow authors in the same niche. Be friendly and thoughtful in your replies.
    10. Tell your friends and family to like your social media pages. This will help you grow, and it will cost them nothing. If they can also like your posts when you publish them, that will be great as well.
    11. Decide where you want to publish the book. If you want it just on Amazon, here's where you get more information https://kdp.amazon.com/en_US/  If you want to publish it to Amazon, Apple, Barnes and Nobles and many other shops at the same time, here's where you need to create an account: http://bit.ly/2XgVUtI - Publishing with this bit.ly link is easier, as those guys help you format the book and they publish it to all platforms at once.
    12. This step is a bit harder, but it will make a big difference in your marketing efforts. Go to https://mailchimp.com/ and create a free profile. Integrate a sign up form to your blog, or use a special link to send visitors to sign up to your mailing list. Promise them a FREE chapter from your book if they sign up to your email list. You will get a list of people to announce the launch of your book this way. You can send a newsletter right from mailchimp website. There are plenty of guides online on how to do it.
    13. You can create a contest on social media that can give winners free copies of your book. This works after you have some number of active people following you.
    14. That's it! Keep posting on social media and try to get as many people on your profiles.