I've written over 100 books and countless articles. I've helped many 6 figures businesses increase sales by using my text. I have over 100 5-star ratings on Fiverr. I'm a self-published author and a professional writer since 2008.
Professional Academic Writer For Hire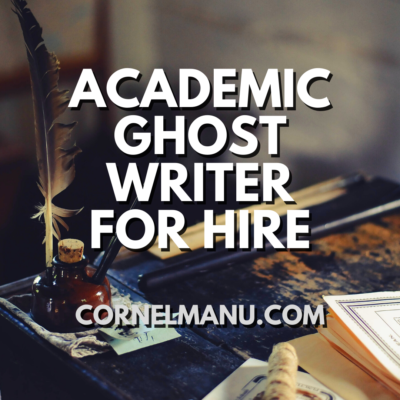 Do you have a hard time finishing your assignments as a student? Maybe you are working or simply have too many things on your plate?
Does it seem like you are missing on life because of the never-ending pile of homework?
The struggles students face these days are bigger than ever, and sometimes you want to have more free time to do what you like or relax a little. I will write your academic paper while you enjoy your time.
You need an academic ghostwriter that can deliver to you essays, research papers, dissertations and anything else you need, at the highest standard to get a good grade.
I have over a decade of experience in academic writing and I've dealt with all kinds of topics for all major universities from around the world.
I have a great understanding of reference styles such as APA, MLA, Chicago, Oscola and Harvard, so you can rest assured you'll get proper formatting for your papers.
I adhere to the instructions and rubric provided, and my text is free of grammatical errors, plagiarism or poor sentence structure.
All orders are delivered in a timely manner and you get revisions to make sure you are 100% happy with the result.
The transaction and work will be handled in complete privacy, therefore you don't have to worry about your confidentiality. We will sign an NDA contract to ensure your privacy.
I can provide assistance with:
Resumes

Essays

Thesis

Case Studies

Research Papers

Online Courses

Lab Reports

Proofreading and Editing

Dissertations

Book Reviews

Personal Statements… and more
If you want high-quality content for your academic paper to get good grades, hire a professional academic writer that will take care of your needs in the best way possible. I can write academic work up to the Graduate level.
I will also follow your tone and style when writing the academic paper.
The content I write is researched intensively and 100% original, therefore you don't risk getting caught as it happens with students that use general academic writing websites. When you buy cheap academic custom writings, you buy the same content rewritten all over again for thousands of students.
And as Universities and Colleges get better and better at identifying people who buy this kind of service, the risk of being found is real.
When you hire me, you hire my ghostwriting skills and I'll work with you and get the project done before the deadline. We will communicate all the steps along the way until completion.
You don't hire a company that "chooses" a writer for you. You hire a ghostwriter that will work for you.
Price starts at $0.25 / word
I take a limited number of clients each month, so make sure to contact me ASAP to make sure you get your spot reserved.