I've written over 100 books and countless articles. I've helped many 6 figures businesses increase sales by using my text. I have over 100 5-star ratings on Fiverr. I'm a self-published author and a professional writer since 2008.
7 Ways To Protect Yourself When Hiring A Ghostwriter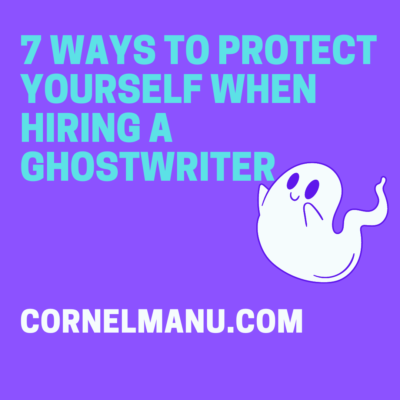 You decided to hire a ghostwriter to write your book, but you have no idea how to navigate this new realm? Paying a big amount of money for getting your book done can get you worried.
Completely understandable.
This article is for you. I will tell you all you need to know before hiring a ghostwriter. I am Cornel Manu, a ghostwriter with over a decade of experience and 100 bestselling books written for my clients.
I understand that when you are hiring a ghostwriter for the first time, you might encounter troubles because you don't know what you need to do to stay safe and find good writers, and finding out the hard way might be too costly. That's why I decided to use my experience to teach people what they need to do to have a great experience with a ghostwriter.
Getting scammed by a ghostwriter or by a ghostwriter agency doesn't only involve getting your money and not delivering the work. It also involves outsourcing the work and giving you text of a quality that is much less than what you paid for. You don't want to get a book from a writer that is worth $0.02 per word when you paid 10 times or more.
Let's get started.
Before going into details of what you need to do to protect yourself, let's debunk some myths regarding ghostwriter protection.
Hiring a ghostwriter myths
- Using an agency is safer/better. FALSE
There's no difference when it comes to your safety. You can find agencies that scam people as easily as ghostwriters, and they might even give you outsourced work from less-developed countries. That means you might not even get the work of a single ghostwriter in your hands. It's more common for agencies to outsource their work, but it happens with freelance ghostwriters as well.
- Using a freelancing platform is safer. FALSE
Scammers are on freelancing platforms as well. As long as they receive positive reviews from people that either have no idea what good text is or who are in the same deal with them, the freelancing platforms will not keep your side. The only thing you can do is leave a bad review, you can't take money back for something of lesser quality.
Ok, now let's get to the part where you learn how to protect yourself when hiring a ghostwriter.
Make sure the writer is legit
This is the first thing you need to do when you find a ghostwriter or an agency. You have to make sure that you are dealing with a person or a company that has a history and some real information. A phone number is not enough. You need to know the legal name of the person and/or company, and their location.
Make sure that the writer or the agency has a big enough portfolio to prove their skills.
A scammer would have a name that won't bring any conclusive results and no online presence that has more than two years.
Therefore your chosen ghostwriter must have a website registered under their name (do a who.is search), a social media presence and a place where they gather reviews.
Check out the ghostwriter's reputation online
Search for reviews online for that writer, preferably on a platform anyone is free to leave a review.
Search online using their name + scam and see if you can find some complaints from other people. Make sure that they have a website in their name and that website is having a history (not a website created recently).
Check their social media profiles and see what people have to say in comments. If they are scammers, people will leave complaints about them. Make sure that they have an active online presence and that there are no complaints about them.
Having no social media presence in this day and age could mean you are dealing with a scammer. Having no website can also mean the same thing.
Scammers will always try to have as little trace to them as possible. Legit writers can be found with their personal information.
Also, if a writer seems more like an influencer than an actual writer (caring about followers and getting likes on the internet), that person is highly likely to outsource their work as well.
Writers usually focus only on being writers, and the only social media activity they do is meant to attract clients, not fame.
Check the quality of the ghostwriter's text
The portfolio should be read in detail to check the quality of the ghostwriter. Make sure that the writer has some pieces written and published in their name, not just ghostwritten.
If the writer has samples on multiple niches, that's a strong indicator of how flexible their writing skills are. You want someone capable of moulding and fitting to every type of project and niche.
If you want, you can ask for a paid test. Tell them to write you something small on the subject of your book. Any writer worth their salt will agree to a paid test. A scammer won't bother with trying to trick you for a small amount.
This way you can make sure the quality of the writer is genuine.
Don't ask for free samples of work though. No one should work for free and it's disrespectful.
Ask for clear terms on payment, revisions and delivery time
A professional writer knows how much a book should cost and how much time it will take to be delivered. If you don't get clear information regarding payment, revisions and delivery time, you might be dealing with a scammer or someone that outsources their work.
Of course, the writer will need to know the estimated size of your book and the topic of the book before knowing the price and delivery time.
If you have no idea what your book is going to be about and you want to let the writer decide everything, keep in mind that the average word count for a non-fiction book is 20.000 words, while for fiction is at least 30.000 (might even be considered a short read).
Always SIGN a contract before paying a single cent and before providing sensitive information
THIS IS the most important rule in working with a ghostwriter. Always sign a contract that states clearly the work details, payment details, delivery time, NDA terms and what happens if you don't get the work promised.
The contract should be signed using the real name or the company's name. Use a service like HelloSign or DocuSign to sign your contracts to consolidate even more the legality of it.
If the writer or the agency refuses to sign a contract, that is a major red flag.
Keep your conversations in one place
If you ever want to pursue some legal actions, you need to have proof of your conversations with the ghostwriter or the agency. I recommend keeping all the conversations on email, no matter how comfortable it might seem to move to Discord or Facebook Messenger.
If you pay via PayPal, make sure that the invoices are paid for the same email you communicate with, or you ask them to mention the communication email in the invoice details.
Pay safely
Talking about invoices, make sure they are issued by the same person or company you made the contract with, and ask them to include the contact details in the invoice.
Don't send money via Western Union, Bitcoin or in person if you don't know the individual by name and where to find them.
Pay via PayPal, bank transfer or other means where they have to come to you with their legal name. Don't pay in a bank account or PayPal account that has a different name than the writer you are dealing with.
It's normal to pay upfront when you hire a ghostwriter, but the terms of the payment should be clearly laid out on the contract details. And you should receive portions of the work (unedited and raw) before paying for more.
The samples you receive before the work is completed are going to be with mistakes because editing and proofreading are done after the book is finished.
A scammer will almost always ask for Bitcoins or other Cryptocurrency, as they cannot be tracked. If you know or trust that ghostwriter after working with them, you can move to a less secure way to send money to avoid fees, but not the first time.
These are the steps you can take to protect yourself when working with a ghostwriter. If you keep in mind these 7 tips, you'll be fine.
There are plenty of good writers out there waiting to bring your project to life. By following these steps you'll identify them easier.
Since I walk the walk, let's see how I fit in these tips.
I have a website registered in my legal name (cornelmanu.com - registered in 2017), and I sign everything in my name.
I have plenty of reviews on TrustPilot, a platform where anyone can review me, and I have an active social media presence.
I have a big portfolio with books published, articles in my name and many other samples.
I always offer clear terms on payment, revisions and delivery times.
I always sign a contract with my clients before beginning work or take payment.
I keep the communication via the email I use to take payment in.
I'm verified with PayPal and I can take bank transfer in my name.
Check out my ghostwriting service page for more details.