I've written over 100 books and countless articles. I've helped many 6 figures businesses increase sales by using my text. I have over 100 5-star ratings on Fiverr. I'm a self-published author and a professional writer since 2008.
How to Publish a Book Without Writing a Single Word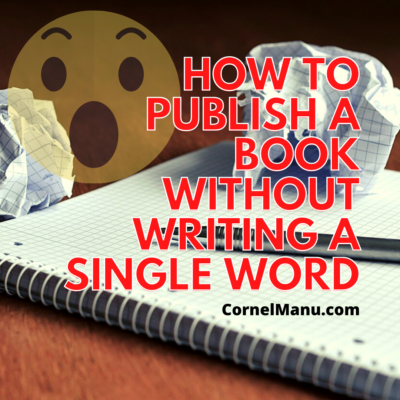 Do you want to publish a book but don't have the time or the experience to write it from scratch? Then you might be wondering what are the options of getting a book done without writing it.
While the options aren't many, I will try to cover all of them and give you all the pros and cons for each one.
With that being said, please keep in mind there's no magic formula for getting great content. No software is that amazing in creating high-quality content, and that means it has to be made one way or another.
So no, there's no software you can use to get a good quality book. Sorry.
Now let's talk about your options.
Dictate it
Dictating the book you want is one of the easiest ways to get it done without writing it, but still takes a lot of time.
Simply use a recording app on your phone, hit record and start talking your book. Record each individual chapter separately, so you can easily find them or re-record chapters if you need to.
After you record your book, you need to transcribe it. You can either use an online service for this or simply hire a freelance transcribe.
Now that you have your transcribed book, you need to hire a book editor to make it from something messy into something beautiful and ready to publish.
The quality of the editor you hire will be proportional to how good the end result will be.
PROS: Easy to do, fast.
CONS: You need to hire a transcriber and editor, which can be more costly than hiring a ghostwriter
Transform your blog posts into a book
A great idea on how to get a book is to transform your blog posts into a book. Simply gather all the articles you have and come up with an idea on how to transform all that information into a book.
You need to alter some content and add something new to it, especially something well-researched, otherwise your readers will complain about paying for content that is free on your blog.
You need to put some effort into creating a book from your pre-existing content. If not, the content will fall flat and readers will be disappointed. That is a sure way to get negative reviews.
Also keep in mind that Amazon and other publishers might have an issue with content that is already on the internet, even if it's yours.
PROS: Easy to do.
CONS: Time-consuming, might disappoint readers by giving them content already on the internet.
Buy PLR content
Private Label Rights content is text that is sold to multiple people with a license that allows them to resell that content. You can find plenty of books and articles with a PLR license.
Of course, buying a PLR book and reselling it without any modifications is not a good idea. Chances are that book is already present in major shops online, and therefore your book might be taken down for plagiarism. You can sell the book on your website without a problem, but that defeats the purpose of launching a book.
What you need to do is buy multiple PLR books or articles and combine them into a fresh new book. Of course, the content in the book is not going to be original, but the way you present it will be.
However, it might be difficult to find content that is not already everywhere on the internet, either as books or articles.
Keep in mind that premium PLR content (that is deleted after several buyers purchased it) is quite expensive.
PROS: Relatively fast
CONS: Costly & the content is not original.
Hire a ghostwriter
Hiring a ghostwriter to write your next bestseller is one of the best options if you have the budget to pull it through.
The benefits of a ghostwriter are more than just not consuming a day of your time. Yes, a ghostwriter can write a book starting from a niche, you just tell them your intention and they can come up with everything, book title, main story and characters.
But a ghostwriter will also make sure that the book you get is one that the readers will love. You see, with the other options, there is a high chance of receiving negative reviews.
A ghostwriter with experience knows how to study the subject and the audience to craft a book that your audience will devour. And you won't have to spend so much money on an editor afterwards.
As soon as you get your book, you can publish it and enjoy the advantages of being a published author.
PROS: No effort from you, high chance to have a bestseller
CONS: Costly
There you have it. These are the limited options of publishing a book without writing a single word. I know there aren't too many options out there, and many people will eventually hire a ghostwriter to get a high-quality book.
Dictating your book, using articles from your blog or PLR content will more often than not give you a low-quality book that will receive negative reviews. Books that have negative reviews tank in sales and the whole purpose of publishing a book is gone.
You want your book to become popular and spread through the readers' communities.
It's better to wait a while until you have the funds to hire a professional ghostwriter than to risk your reputation with a bad book. Remember: the internet never forgets! Even if you delete your book afterwards, the stain of publishing a bad book might be permanent.
If you want to hire a ghostwriter with over a decade of experience and more than 100 bestsellers under his belt, check out my page detailing my ghostwriting service.