I've written over 100 books and countless articles. I've helped many 6 figures businesses increase sales by using my text. I have over 100 5-star ratings on Fiverr. I'm a self-published author and a professional writer since 2008.
You Never Have Time To Write A Book? There Might Be A Solution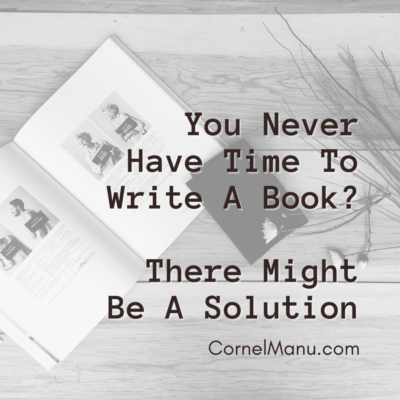 Most people have a book inside them that needs to be written, a story that needs to be told.
However, very few people get to find the time to actually write the book. And it's understandable since very few people have that much free time to spare.
Between work-related duties and the things you have to do for yourself and your family, when could you find the time to just sit down and write?
What makes this even harder is the fact that writing a book is an astonishing feat that takes a lot of planning, researching, and of course writing.
For someone that never did it before, it's a daunting task that makes you not even try it.
Maybe you should consider hiring a ghostwriter to write the book for you. I'm a ghostwriter with over 10 years of experience and I wrote a lot of books for my clients.
And most clients hire me because they don't have time to do it themselves. As simple as that.
Considering that a published book helps you make more money, increases your business exposure and credibility, makes you an authority, and leaves a legacy behind, you shouldn't abandon the idea simply because you don't have time.
Here are the advantages of hiring a ghostwriter to write your dream book.
You'll spend time doing other things
You can use the saved time to work and make more money with the things you like and enjoy. Or you can spend more time with your family and those that you cherish.
Time is a valuable asset and having the ability to spend it how we want is true wealth.
A ghostwritten book will give you back the money invested tenfold, so you save time and more money by hiring a ghost.
You get to do the things you enjoy
Let's be honest here, you probably don't enjoy writing that much. When it's a passion, you can't spend time apart from it.
Book publishing isn't reserved for writers only. Businessmen, CEOs, professionals, coaches, influencers, and regular people also invest in books, and therefore need to hire a ghostwriter to take the heavy-lifting.
So hiring a ghost means that you can spend the time doing the things you like. You don't have to force yourself to write. You can enjoy your hobbies or the work you enjoy.
You get a bestseller from start
You need a lot of experience to craft a good book. A book that will appeal to your readers, since they are the ones that will buy it and leave reviews.
There's a specific way in which you need to research your topic, make the book structure, choose the storyline, and other important details.
You don't get a good book on the first try.
Therefore why waste precious time and attempts when you could have a bestselling book from your first try by hiring a professional ghostwriter?
Readers have a very high standard nowadays and a badly-written book can affect your author's journey and business.
Do you want to hire a ghostwriter to write your dream book?
I have over 10 years of experience and I crafted over 100 bestsellers for my clients. Check out my ghostwriting service.