I've written over 100 books and countless articles. I've helped many 6 figures businesses increase sales by using my text. I have over 100 5-star ratings on Fiverr. I'm a self-published author and a professional writer since 2008.
Real Estate Writer For Hire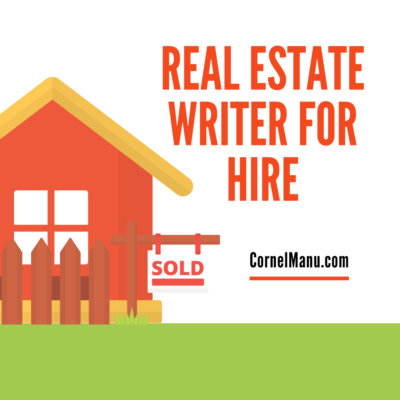 As a real estate professional, you need to focus on what really matters, selling or renting properties.
Unfortunately, the real estate industry is very competitive, and unless you publish constant high-quality real estate SEO content you'll lose many potential clients.
Nowadays, 93% of all people do research online to inform about the best realtors or properties before making a decision. That means you need to be online and attract traffic via search engines.
Your website is a 24/7 365 magnet for potential clients. And to fully use this tool at your disposal, you need a professional real estate writer to deliver awesome content for you.
Not all content is created the same.
You need high-quality content that not only delivers a powerful and professional message but also entices your visitors to make a decision. You need content the persuades people to buy your property or purchase your service.
I'm a ghostwriter and copywriter with over a decade of experience, and I've worked with real estate agents and agencies from all over the world, predominantly in the USA, UK, Canada, and Australia.
I know to write content that is fun, informative, and attractive.
Say goodbye to boring listing descriptions, brochures, ads, articles, or websites.
Real Estate Listing Descriptions
Aren't you tired of seeing the same boring listing descriptions with ample cabinet space and gourmet kitchens? I know most people are.
Your listings shouldn't be boring. They should be attractive, exciting, and exactly what buyers need.
This is even more important if you sell luxury homes.
You need jaw-dropping listing descriptions that will make the reader feel joy when reading them. Nothing says unprofessional like boring text next to impressive high-res photos.
The content I write impresses, excites, and creates a sense of urgency. When a prospective buyer reads it, they want to hit that call button.
Real Estate Blog Posts
Blog posts bring a huge amount of organic traffic and generate leads.
By answering specific real estate questions, your website will be seen as an authority by Google and other search engines. And that means you'll get positioned exactly where you want to be, where people are looking to find answers.
Future prospects will trust your expertise as people are more inclined with someone they find knowledgeable and helpful.
Let's put it another way. If you don't publish these high-quality and informative SEO articles about real estate, your competitors will.
Don't let them take all the traffic.
I write real estate blog posts that not only rank very well on Google but also make people stick around and read more. The more they read about what they need from you, the more they will want to work with you.
Real Estate Copywriting
You need professional and attractive content for your website pages, social media posts, and ads.
You need text that converts!
And that means you need a real estate copywriter that knows how to persuade your audience.
It's not enough to have proper grammar and sound smart. You are dealing with people's emotions here.
If your text doesn't touch their hearts, you will hardly make a sale.
Think about.
Even great houses need polishing before being presented to potential buyers. You need to make them clean and attractive to sell them.
In the same way copywriting can make you look attractive to potential clients.
I write copywriting that will make you unique and very attractive for anyone interested in your services. They will be compelled to work with you.
Not All Real Estate Content Is Created Equal
My top priority is to write content that works for you and your services. When properly executed, content is one of the most powerful tools in converting an audience into paying customers.
To achieve this goal, I thoroughly research your consumer base and brand before writing a single word. This is the most important part.
Then I write content that is in tune with your brand's voice but also satisfies your target audience's needs. This content will create trust and guide the audience towards the next steps of working with you.
What I can write for you:
 White papers

 Case studies

 SEO articles

 Neighborhood profile

 Sales and Ad copy

 Bio/About Me pages

 Email campaigns

 Property descriptions and brochures

 And more…
Let me take the writing task out of your hands, so you can focus on what moves the needle.
And my content will bring you profits tenfold.
I've helped many real estate agents elevate their business, you can be the next one.
Client Reviews
Cornel is an amazing person to work with! He is an excellent writer and works very well as a team member. He is great with constructive feedback and ensuring that you are happy as a client.
- Chase Milner, CEO of US Realty Training LLC
bhawna bharwani
2022-06-24
I got a chance to work with Cornel for… I got a chance to work with Cornel for one of my projects and it worked out really well. He demonstrated a lot of understanding when it comes to redoing certain things because I was not totally satisfied with them. He completed his work well within timelines and made sure that he incorporates all the necessary feedback or suggestions. In the editing process, I would say just one thing, he added value to my first book and that says it all. He is a nice guy to work with, comfortable sharing the feedback, working to and fro for changes, taking feedback and implementing and lastly he helped me to publish my work smoothly. He made some mock-ups with were not even part of the agreement.

Cornel is an amazing person to work… Cornel is an amazing person to work with! He is an excellent writer and works very well as a team member. He is great with constructive feedback and ensuring that you are happy as a client.
Alexander Tretjakov
2021-08-10
Super fast Super fast, great attention to detail and knows what he is doing. Will be using him in the future.
Cornel is an extremely professional and… Cornel is an extremely professional and high-quality writer. I've struggled to find someone to help me and I'm thrilled with his work.
Ulysses Baltazar
2021-03-23
Hands down, best writer to work with. Hands down, Best Writer I have ever worked with. His attention to detail is incredible. I provided him with overview of what the project should be about. His creative imagination was a perfect fit for the execution of the writing project. Delivering results in a timely manner.
Great writer Great writer. I got my book written and launched in less than a month. It became a bestseller in a week.
Cornel is a true professional. Cornel is a true professional. Very nice person and easy to work with. 5/5

I used Cornel to write me content for a Ebook Writing I used Cornel to write me content for a very important project and the content was very well written, with great understanding and my deadline was met too. I'm impressed, about to place another order with him. Great writer!
Cornel did an excellent job Cornel did an excellent job writing something for our project! It was within the time limit he said and when we wanted to change some things, it was done the same day! We highly recommend him!Thank you very much Cornel!
Great work Great work. Helped us with a very large script. Cornel studied our niche and put out a very good script, noting all the nuances and industry specific terms.
Prices start at €0.20 per word for Ghostwriting and €0.40 per word for Copywriting
With discounts for large orders
I take a limited number of clients each month and I get booked quickly
Contact me now if you want to work with me