I've written over 100 books and countless articles. I've helped many 6 figures businesses increase sales by using my text. I have over 100 5-star ratings on Fiverr. I'm a self-published author and a professional writer since 2008.
Law Writer For Hire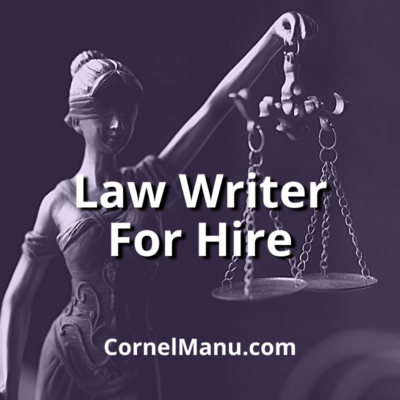 Many attorneys try to write their own blog posts and social media activity, but sometimes your plate is too full and the blog remains outdated.
We all know about the importance of having beautifully crafted SEO articles and social media posts that attracts future prospects. Not being active online is a disadvantage when your competitors are.
Followers like to see fresh content at least two times a week. If you don't keep them engages, they will find a competitor that does it and use their information to complete their research.
That's why you need to hire a legal writer with experience in crafting legal content that satisfies the needs of your target audience and search engines as well.
You need a writer that knows how to distill legal terms and topics into information that can be consumed by anyone while remaining legally accurate.
When you write SEO articles, the main focus is your audience. You are writing for them, not for other lawyers.
I've written articles and website copy for many lawyers from the USA, UK, and Canada, and I can offer the same services to you.
I'm Cornel Manu, a ghostwriter and copywriter with over a decade of experience. My content is well-researched and original, and you'll enjoy the benefits of bringing more traffic from search engines and converting readers into clients.
Some of the articles I've written:
I also wrote the web copy for BeffaLaw and Steptoe.
My job is to write content that not only gets you noticed by Google but also meets your target audience's needs.
And that content has to be in tune with your brand's voice because that's how you get fans, not just customers.
That's why you should hire me. My SEO content will:
✔ Increase your SERP with long-tail keywords and even competitive keywords. You will rank nr. 1 on a lot of search terms.
✔ Bring you a surge of organic traffic that is interested in what you have to offer.
✔ Make a connection between your business and your clients.
✔ Provide a steady but constant increase in traffic and business.
Get your SEO content or website copy from a law freelance writer with over a decade of experience. Check out my homepage to see my current rates, portfolio, reviews, and other details regarding my work. I'm your go-to writer for ghostwritten legal content!