I've written over 100 books and countless articles. I've helped many 6 figures businesses increase sales by using my text. I have over 100 5-star ratings on Fiverr. I'm a self-published author and a professional writer since 2008.
Professional Ebook Writing Service: Get an Ebook With Your Name On It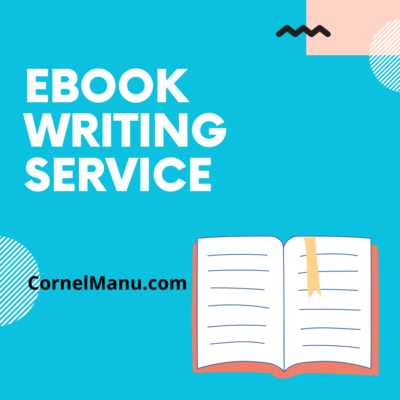 Are you seeking an exceptional ebook writing service that can turn your book dreams into reality? Look no further! I'm Cornel Manu, a professional writer with a passion for crafting bestselling books. With over a decade of experience and a track record of over 100 bestsellers, I specialize in ebook writing and ghostwriting services. Whether you aspire to establish yourself as an authority, generate passive income, or leave a lasting legacy, my services are designed to meet your needs.
The Power of Publishing a Book
Publishing a book offers a multitude of advantages that can transform your personal and professional life. As an author, it positions you as an authority in your field, opens doors to increased business opportunities, provides a passive income stream, allows you to reach a wider audience, and creates a lasting legacy.
Why Choose Me for Ebook Writing and Ghostwriting
When it comes to ebook writing and ghostwriting, I offer a range of compelling reasons to entrust your book project to me:
Unparalleled Originality and Quality: As an experienced writer, I deliver 100% original and high-quality content that captures readers' attention and keeps them engaged.
Time and Effort Savings: By hiring me as your ghostwriter, you can save valuable time and effort. I will handle the entire writing process, allowing you to focus on other aspects of your life or business.
Extensive Experience: With over a decade of professional writing experience, including ghostwriting more than 100 books, I possess the expertise and skill to bring your book to life.
Proven Bestseller Results: Many of the books I've ghostwritten have achieved bestseller status, showcasing my ability to create compelling and marketable content.
Business Growth and Authority: By aligning the book with your goals and target audience, I can help you increase your business numbers and establish yourself as an influential figure in your industry.
Expert Research and Writing: I conduct thorough research on your topic to write with authority, ensuring that your book resonates with your readers.
Customized Tone and Style: Your book will reflect your unique voice and style, ensuring authenticity and enhancing reader engagement.
Flexible Publishing Options: I will format your book to be publish-ready on any platform, be it digital, print, or both, ensuring maximum visibility and accessibility.
The Ebook Writing and Ghostwriting Process
Collaborating with me on your ebook writing or ghostwriting project is a seamless process that includes the following steps:
Project Details: Share the specifics of your book project, including the topic, size, and industry, to kickstart the process.
Proposal: I will provide you with a comprehensive proposal, outlining the pricing, timeframe, and terms for our collaboration.
Contract Agreement: To ensure mutual understanding and protection, we will sign a contract covering confidentiality, payment, and legal terms.
Outline Review: Before delving into the writing process, I will present you with an outline to ensure that our vision aligns.
Timely Delivery: You can expect the completed book by the agreed-upon date, enabling you to publish it immediately and enjoy the benefits of being a published author.
What I Can Write For You
My writing expertise spans various genres and topics, offering you a wide range of options to suit your needs:
Fiction: Whether it's romance, young adult, fantasy, sci-fi, or mysteries, I can create captivating fiction that keeps readers enthralled.
Non-fiction: From IT and B2B to SEO, WordPress, self-help, nutrition, business, time management, relationships, and fitness, I excel at crafting informative and insightful non-fiction works.
Biographies and Memoirs: If you have a remarkable life story or wish to capture someone else's, I can help bring those experiences to life.
Invest in Your Author Journey
To make your author journey more accessible, I offer competitive pricing starting at €0.20 per word for bestsellers. For example, a 20,000-word book would cost €4,000. As my availability is limited, don't miss the opportunity to work with me. Contact me today to get started on creating a masterpiece that can make you proud and potentially become a bestseller.
Becoming a published author is within your reach, thanks to professional ebook ghostwriting services. With my exceptional writing skills, proven experience, and dedication to excellence, I am committed to bringing your book to life. Don't wait any longer. Contact me now and let's embark on an unforgettable author journey together.
What clients say about my services
bhawna bharwani
2022-06-24
I got a chance to work with Cornel for… I got a chance to work with Cornel for one of my projects and it worked out really well. He demonstrated a lot of understanding when it comes to redoing certain things because I was not totally satisfied with them. He completed his work well within timelines and made sure that he incorporates all the necessary feedback or suggestions. In the editing process, I would say just one thing, he added value to my first book and that says it all. He is a nice guy to work with, comfortable sharing the feedback, working to and fro for changes, taking feedback and implementing and lastly he helped me to publish my work smoothly. He made some mock-ups with were not even part of the agreement.

Cornel is an amazing person to work… Cornel is an amazing person to work with! He is an excellent writer and works very well as a team member. He is great with constructive feedback and ensuring that you are happy as a client.
Alexander Tretjakov
2021-08-10
Super fast Super fast, great attention to detail and knows what he is doing. Will be using him in the future.
Cornel is an extremely professional and… Cornel is an extremely professional and high-quality writer. I've struggled to find someone to help me and I'm thrilled with his work.
Ulysses Baltazar
2021-03-23
Hands down, best writer to work with. Hands down, Best Writer I have ever worked with. His attention to detail is incredible. I provided him with overview of what the project should be about. His creative imagination was a perfect fit for the execution of the writing project. Delivering results in a timely manner.
Great writer Great writer. I got my book written and launched in less than a month. It became a bestseller in a week.
Cornel is a true professional. Cornel is a true professional. Very nice person and easy to work with. 5/5

I used Cornel to write me content for a Ebook Writing I used Cornel to write me content for a very important project and the content was very well written, with great understanding and my deadline was met too. I'm impressed, about to place another order with him. Great writer!
Cornel did an excellent job Cornel did an excellent job writing something for our project! It was within the time limit he said and when we wanted to change some things, it was done the same day! We highly recommend him!Thank you very much Cornel!
Great work Great work. Helped us with a very large script. Cornel studied our niche and put out a very good script, noting all the nuances and industry specific terms.
I've written for celebrities, CEOs, influencers, well-known authors, and even regular folks that always had a dream about publishing a book.