I've written over 100 books and countless articles. I've helped many 6 figures businesses increase sales by using my text. I have over 100 5-star ratings on Fiverr. I'm a self-published author and a professional writer since 2008.
Unlock the Power of Compelling Writing: Hire Me as Your Professional Writer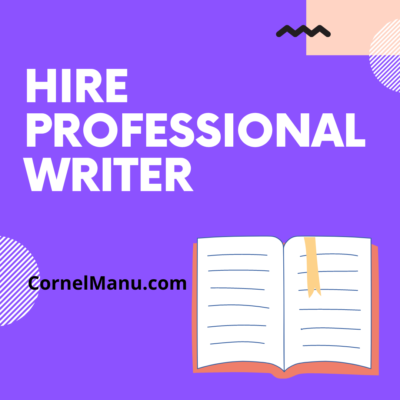 Are you a business owner looking to increase organic traffic and elevate your content marketing strategy? Look no further!
My name is Cornel Manu, a professional writer for hire, specializing in delivering exceptional content that drives results. With a decade of experience and a proven track record, I have worked with industry leaders such as Pay, Loom, ivicos, RingCentral, and Outseta. In this article, I will outline why hiring me as your professional writer can boost your B2B SaaS success, establish your authority, and engage your target audience.
Expertise and Accomplishments
As a freelance ghostwriter and copywriter, I have successfully collaborated with professionals, brands, and agencies worldwide, creating high-quality content that boosted marketing efforts and increased conversion rates. With over 100 books and thousands of articles under my belt, I have helped numerous six-figure businesses achieve higher sales through the power of my writing. Additionally, I have garnered over 100 five-star ratings on platforms like Fiverr, demonstrating my commitment to delivering exceptional results.
Areas of Expertise
With a versatile writing style and an insatiable thirst for knowledge, I can tackle various niches with expertise and precision. While I am adept at researching any topic, I have already covered certain subjects extensively, and multiple pieces are available in my portfolio. Some of my strong topics include:
Self-Help
Relationships
SEO
IT
WordPress
Fitness & Nutrition
Marketing
Fiction
Reasons to Hire Me
I Bring the Results You Want: My extensive experience and passion for writing ensure that I deliver the results you desire. Whether you seek a bestselling book, improved sales, or engaging articles, I am dedicated to exceeding your expectations. I constantly enhance my knowledge and skills to stay at the forefront of the writing craft, ensuring that I provide you with the best content possible.
I Always Research Intensively Before Writing: Thorough research is the bedrock of successful writing. I invest substantial time and effort in studying and understanding each project before I start writing. This ensures that the information I provide is accurate, up to date, and tailored to your specific requirements. From books to copywriting and articles, my commitment to meticulous research guarantees that your content resonates with your audience.
I Respect Your Privacy and Time: I understand the importance of confidentiality and punctuality. When you work with me, your privacy is paramount. I never disclose any project details without your explicit consent. Additionally, I adhere to agreed-upon deadlines, ensuring that your project is completed on time, every time. I am willing to sign necessary agreements and NDAs to provide you with complete peace of mind.
I Have a Huge Portfolio and Stellar Reputation: Trust and quality are essential when hiring a writer. My extensive portfolio and stellar reputation speak volumes about my commitment to delivering excellence. With over 10 years of professional writing experience, I have written numerous articles on my blog, published self-help books, and completed over 100 books and 1000 SEO articles for clients. Positive reviews from satisfied customers reinforce my dedication to providing top-notch content that meets and exceeds expectations.
You Get a 30% Discount for Big Orders: To show appreciation for your trust and commitment, I offer a 30% discount for book orders exceeding 10,000 words and copy orders surpassing 2,000 words. Additionally, I provide discounts for articles, such as a 5+1 free article or 8+2 free articles package. By choosing me as your professional writer, you not only receive exceptional content but also enjoy cost-effective solutions for your writing needs.
Don't miss out on the opportunity to work with a professional writer who brings expertise, researches extensively, respects your privacy, possesses a stellar reputation, and offers discounts for big orders. Unlock the power of compelling writing and elevate your content marketing strategy by hiring me as your trusted content writer.
Contact me now to discuss your project, and let's embark on a journey to create exceptional content that drives remarkable results.
What clients say about my services
bhawna bharwani
2022-06-24
I got a chance to work with Cornel for… I got a chance to work with Cornel for one of my projects and it worked out really well. He demonstrated a lot of understanding when it comes to redoing certain things because I was not totally satisfied with them. He completed his work well within timelines and made sure that he incorporates all the necessary feedback or suggestions. In the editing process, I would say just one thing, he added value to my first book and that says it all. He is a nice guy to work with, comfortable sharing the feedback, working to and fro for changes, taking feedback and implementing and lastly he helped me to publish my work smoothly. He made some mock-ups with were not even part of the agreement.

Cornel is an amazing person to work… Cornel is an amazing person to work with! He is an excellent writer and works very well as a team member. He is great with constructive feedback and ensuring that you are happy as a client.
Alexander Tretjakov
2021-08-10
Super fast Super fast, great attention to detail and knows what he is doing. Will be using him in the future.
Cornel is an extremely professional and… Cornel is an extremely professional and high-quality writer. I've struggled to find someone to help me and I'm thrilled with his work.
Ulysses Baltazar
2021-03-23
Hands down, best writer to work with. Hands down, Best Writer I have ever worked with. His attention to detail is incredible. I provided him with overview of what the project should be about. His creative imagination was a perfect fit for the execution of the writing project. Delivering results in a timely manner.
Great writer Great writer. I got my book written and launched in less than a month. It became a bestseller in a week.
Cornel is a true professional. Cornel is a true professional. Very nice person and easy to work with. 5/5

I used Cornel to write me content for a Ebook Writing I used Cornel to write me content for a very important project and the content was very well written, with great understanding and my deadline was met too. I'm impressed, about to place another order with him. Great writer!
Cornel did an excellent job Cornel did an excellent job writing something for our project! It was within the time limit he said and when we wanted to change some things, it was done the same day! We highly recommend him!Thank you very much Cornel!
Great work Great work. Helped us with a very large script. Cornel studied our niche and put out a very good script, noting all the nuances and industry specific terms.
I've written for celebrities, CEOs, influencers, well-known authors, and even regular folks that always had a dream about publishing a book.