I've written over 100 books and countless articles. I've helped many 6 figures businesses increase sales by using my text. I have over 100 5-star ratings on Fiverr. I'm a self-published author and a professional writer since 2008.
Boost Your Online Presence with Professional SEO Copywriting Service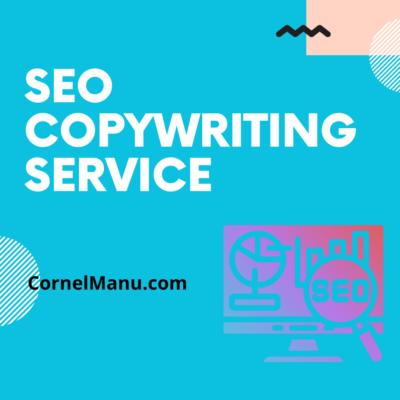 Are you looking to boost your online presence and attract more organic traffic?
Look no further!
I'm Cornel Manu, a highly experienced SEO copywriter with a proven track record of delivering exceptional results for businesses. With over 10 years of experience in the field, I have honed my skills and developed a deep understanding of effective online communication. I have worked with a diverse range of clients, including e-commerce websites, SaaS companies, and digital marketing agencies, helping them achieve their digital marketing goals and drive tangible growth.
Here's why you should choose me as your go-to SEO copywriter:
High-Quality SEO Copy: I pride myself on delivering well-researched, original, and professionally-written content that aligns perfectly with your business goals. I go the extra mile to understand your brand, industry, and target audience, ensuring that the content I create reflects your unique value propositions and positions you as an authority in your field. My in-depth research and attention to detail result in high-quality copy that resonates with your audience and drives engagement.
SEO-Friendly Content: Writing content that ranks well in search engines requires a deep understanding of SEO principles and best practices. I stay up-to-date with the latest algorithm updates and industry trends, allowing me to craft content that adheres to Google's EAT (Expertise, Authority, Trustworthiness) guidelines and fulfills user intent. By conducting thorough keyword research and seamlessly incorporating relevant keywords into your content, I optimize your pages for higher visibility and better organic rankings.
On-Page Optimization: To maximize your website's performance in search engine rankings, I go beyond content creation and utilize industry-leading tools like SurferSEO for comprehensive on-page optimization. By analyzing factors such as keyword density, content structure, meta tags, and headings, I ensure that your content meets the best SEO practices. This attention to detail enables your website to achieve higher visibility, resulting in increased organic traffic and improved conversion rates.
Flexible Delivery Options: I understand that timely delivery is essential for your business's success. As a professional SEO copywriter, I prioritize meeting deadlines and offer flexible delivery options tailored to your project's timeline and requirements. Whether you need content for a specific campaign, regular blog posts, or ongoing website updates, I work closely with you to create a seamless and efficient workflow that ensures timely delivery without compromising on quality.
Click-Worthy Headlines: In the competitive online landscape, captivating headlines are paramount to attracting readers and driving engagement. Drawing on my extensive experience, I specialize in crafting click-worthy headlines and SEO-friendly sub-headings that grab attention and entice users to click through to your content. By employing persuasive language, incorporating relevant keywords, and employing proven techniques, I create headlines that not only generate traffic but also set the stage for a captivating and informative user experience.
Effective SEO copywriting is crucial for businesses looking to thrive in the digital age. While some business owners may be tempted to write their own content, it's important to recognize the unique skill set and expertise that a professional SEO copywriter like myself brings to the table. Here's why entrusting your copywriting needs to a specialist can yield significant benefits:
a. Time and Focus:
As a business owner, your time and energy are valuable resources. By outsourcing your SEO copywriting to a professional, you can free up your schedule and concentrate on core business activities, while knowing that your content is in capable hands. I take care of all the research, writing, and optimization, allowing you to focus on running your business.
b. Expertise and Experience:
SEO copywriting requires a deep understanding of search engine algorithms, user behavior, and persuasive writing techniques. With my extensive experience and expertise, I can leverage proven strategies to create content that not only ranks well but also engages and converts your target audience. I stay updated on the latest industry trends and adapt my approach accordingly, ensuring that your content remains relevant and effective.
c. Consistency and Coherence:
Maintaining consistency in your brand messaging and voice is crucial for establishing trust and credibility with your audience. As an experienced SEO copywriter, I excel in capturing your brand's unique tone and style, ensuring that your content aligns seamlessly with your overall marketing strategy. From blog posts to website copy, I create a cohesive content ecosystem that reflects your brand identity and resonates with your target audience.
d. Long-Term Results:
SEO is an ongoing process that requires consistent effort and optimization. By partnering with a professional SEO copywriter, you gain access to a long-term content strategy that evolves alongside search engine algorithms and user trends. I can help you develop a content roadmap that aligns with your business objectives, driving sustainable organic growth and delivering measurable results.
Don't leave the success of your online presence to chance. Invest in high-quality SEO copywriting services that drive tangible results. Contact me today, and let's take your digital marketing efforts to new heights!
What clients say about my services
bhawna bharwani
2022-06-24
I got a chance to work with Cornel for… I got a chance to work with Cornel for one of my projects and it worked out really well. He demonstrated a lot of understanding when it comes to redoing certain things because I was not totally satisfied with them. He completed his work well within timelines and made sure that he incorporates all the necessary feedback or suggestions. In the editing process, I would say just one thing, he added value to my first book and that says it all. He is a nice guy to work with, comfortable sharing the feedback, working to and fro for changes, taking feedback and implementing and lastly he helped me to publish my work smoothly. He made some mock-ups with were not even part of the agreement.

Cornel is an amazing person to work… Cornel is an amazing person to work with! He is an excellent writer and works very well as a team member. He is great with constructive feedback and ensuring that you are happy as a client.
Alexander Tretjakov
2021-08-10
Super fast Super fast, great attention to detail and knows what he is doing. Will be using him in the future.
Cornel is an extremely professional and… Cornel is an extremely professional and high-quality writer. I've struggled to find someone to help me and I'm thrilled with his work.
Ulysses Baltazar
2021-03-23
Hands down, best writer to work with. Hands down, Best Writer I have ever worked with. His attention to detail is incredible. I provided him with overview of what the project should be about. His creative imagination was a perfect fit for the execution of the writing project. Delivering results in a timely manner.
Great writer Great writer. I got my book written and launched in less than a month. It became a bestseller in a week.
Cornel is a true professional. Cornel is a true professional. Very nice person and easy to work with. 5/5

I used Cornel to write me content for a Ebook Writing I used Cornel to write me content for a very important project and the content was very well written, with great understanding and my deadline was met too. I'm impressed, about to place another order with him. Great writer!
Cornel did an excellent job Cornel did an excellent job writing something for our project! It was within the time limit he said and when we wanted to change some things, it was done the same day! We highly recommend him!Thank you very much Cornel!
Great work Great work. Helped us with a very large script. Cornel studied our niche and put out a very good script, noting all the nuances and industry specific terms.
I've written for celebrities, CEOs, influencers, well-known authors, and even regular folks that always had a dream about publishing a book.