I've written over 100 books and countless articles. I've helped many 6 figures businesses increase sales by using my text. I have over 100 5-star ratings on Fiverr. I'm a self-published author and a professional writer since 2008.
9 Ways to Increase Website Conversion Rate - Get More Sales and Leads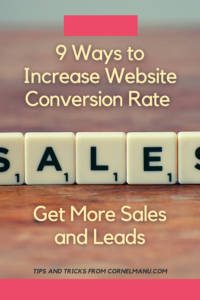 Every business needs sales. It's how they thrive and grow.
Conversions are the heart of keeping your business (and any business) alive. So what you can do when conversions are low?
You can have amazing advertising campaigns, but the traffic you get might fall flat and leave your website without buying or subscribing.
You can have the most effective social media campaigns, but they are worthless if the visitors landing on your pages don't click "Buy now" or "Subscribe".
No, buying more ads is not a solution either.
If the foundation is cracked and at the risk of collapse, the solution is to build even more on top of it? That is the way to rush into total destruction.
Yes, pouring more money into ads when the website doesn't convert well is the shortcut to bankruptcy.
I have over a decade of experience in helping businesses increase sales, so let me tell you 9 tips that you can use to increase your website conversion rate.
Make sure your website loads fast
No, this is not a web design guide. You need a fast website if you want it to convert well.
In this day and age, the average attention span of your visitors is 5 seconds. Imagine what happens if your website loads in 4 seconds…
Your biggest threat is the back button, not your competitor.
We are so used to quick content, the average internet surfer will buy from another place before your website slowly loads.
No matter what CMS you used to build your website, there are ways to increase its speed. Things like how reliable is your hosting, caching and CDN are some ways in which you can increase your loading speed.
If you have a WordPress, I can help you out with this. Any other type of website needs the work of your web developer to make it fast.
Or you can do it yourself by following online tips for your specific platform. But please take into account that it can take you a very long while, and you can mess up your website if you don't know what you're doing.
If you have a premium theme for your CMS, invest in a good CDN and hosting service and you should be golden.
Avoid free themes because they are clunky and not that good in quality. They also don't provide regular updates to keep your theme in tune with the latest versions of your CMS.
Have a clean design
"Another web design tip?" Yes. And this is an important one.
You see, besides website speed, what you have on your website and how good it looks is another factor that influences your website conversion rate.
If there are too many distractions or elements that are too hard to find, your visitors will leave before spending time figuring it all out.
There's a reason why you need to make the shopping experience easy and fast. You don't want your prospect to close the page because of frustration.
A clean design also implies your fonts are looking good and they are the right size, you use colors that provide good contrast and don't strain the eyes, and your website looks very good on mobile devices. Mobile traffic accounts for 50% of the total traffic, therefore having a mobile-friendly website is a must.
Hire a good web designer to take care of these things for you. A bad-looking website will cost you much more money than whatever fee they are asking.
Make the shopping experience easy
The way your clients shop should be so easy that even a 5-years old can do it. It has to be designed in such a way that minimal friction exists.
Customers have now many more options when it comes to their shopping choices. They won't hesitate to go to your competitor if their shopping experience is better there.
Test everything about the shopping experience on your website, from the moment you search for an item to the moment you pay with your credit card.
Find ways in which you can improve the experience and make it easier. If you need some inspiration, go to your favorite online shop and see how they are doing things.
Make the buttons big and easy to see. Going through the buying steps should be a walk in the park.
Include social proof
Customers are much more likely to convert when they can see social proof that your products or services are good.
Over 70% of customers read reviews before buying something, and online reviews can increase your average sales by up to 40%.
So reviews are very important when it comes to your website conversion rate. You need them to create trust with your potential customers.
Now, you need to take care of two things:
- Make sure that your clients have an easy way to leave reviews.
- Display your reviews on your website and let visitors see what other people think of your products or services.
If there are some negative reviews regarding your website, make sure you address them with professionalism and the intention to help them out if they have a problem.
People expect to see some negative reviews on companies, and they even find it unnatural if all your ratings are perfect. Therefore don't shy away at displaying even those reviews that are not perfect 5 stars.
Money-back guarantee or trials
Having the possibility of returning the item they purchased and get their money back is a modern way to create trust with your clients.
Even if your product is digital, the common practice is to offer a money-back guarantee.
This eliminates the fear that is usually associated with buying something.
People think it might not be that good, it might not be suitable for them or it might break. These fears keep people from buying, therefore a guarantee can help them get over their fears and do it.
Of course, if you deliver the quality they expect, you won't get returns or refund requests. But sometimes that happens, and it's just part of the business.
If your digital product can't provide a money-back guarantee due to not being practical, you can offer a free trial that lets your clients see the quality of your products or services with their own eyes.
Not having any of these options on your online shop can decrease the conversion rate, as fear can keep potential buyers away.
Exit popups
Popups can be very annoying, but they can also be a great tool to increase conversions if they are used right.
There are some ways to increase conversions with popups, but one of the most efficient ways is to have an exit popup that gives potential clients more reasons to continue shopping.
Think about it. If a person is about to leave your website, wouldn't be cool to give them a discount code in the hopes that they decide to buy?
That's where exit popups come into play. They display right before someone is about to close the page.
You can use this type of popup to display a time-sensitive offer that can attract them to buy, usually by giving them a discount code. It's better to sell something at a discounted price than to sell nothing.
Basically, you are tapping into people that usually abandon the website to increase the conversion rate you have. It can be a very good way to boost your sales.
Time-sensitive offers
Creating time-sensitive special offers is a great way to boost your sales. These offers appeal to people's fear of missing out.
That's why you have this urge to buy something when it's an offer on it. You know it's cheaper and you want to have it now.
It's hypnotic and you almost cannot help it.
To be effective, these offers have to have a time-limit on them. You can have certain periods during the year when you have these offers, so people will know they can take advantage of discounts ahead of time.
You can make Christmas offers, New Year's offers, and so on.
Or you can send bonus codes on your list of clients that are only available for 72 hours to shop with it. You can also give them discounts on their birthdays.
Use a chat tool
Here's a simple idea that can go a very long way.
Sometimes people have questions or maybe they need a little nudge in the right direction to make a purchase. Chatting about it with someone from your company can help smooth the transaction.
There are plenty of hassle-free solutions to implementing a chat feature on your website.
Either to leave people an easier option to contact you or simply being there for them during working hours, the chat functions can greatly increase your conversion rate.
It's something you can implement for free using Tawk.to or other similar tools. But the profits you will gain can be considerable.
Use compelling copy
Even if everything is perfect, how well your website converts boils down to how good your copy is.
(Remember, you have 5 seconds to capture your audience.)
And not only on your website.
The copy you have on your social media, newsletter, ads, product description, and so on is also very important to attract clients.
You need compelling words that are written with the purpose of hooking your audience and attract them to buy.
Because copywriting is the art of selling with words.
This is how you can sell your business like hotcakes.
While you can try to write the copy yourself, it's best to hire a copywriter with many years of experience and the capability of turning your visitors into customers.
Here is where I can help you.
I've written for a lot of companies over my decade of experience, big and small, and helped them increase their sales by using effective and compelling copy.
I know how to properly communicate your brand's message and how to connect your business to your prospects.
See what I can do on my portfolio, and contact me if you want to work with me.
I hope this article was helpful to you. Give it a share or leave a comment below and let me know what you think about it.