I've written over 100 books and countless articles. I've helped many 6 figures businesses increase sales by using my text. I have over 100 5-star ratings on Fiverr. I'm a self-published author and a professional writer since 2008.
Health and Fitness Freelance Writer For Hire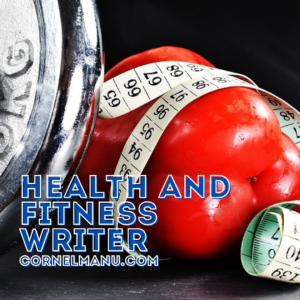 Do you need health and fitness books, SEO content, or copywriting?
You are in the right place.
I am Cornel Manu, a freelance writer with over a decade of experience and 120+ positive reviews online.
Health and fitness is a subject I am very passionate about, and that can be seen in all the content I've done on this topic.
I practice fitness and healthy eating since I was 14 years old, and I've studied everything I could on this topic.
I used to regularly go to the gym and workout, and now I exercise at home using a workout program I developed myself that targets all the important groups of muscles.
Why you should hire me as your health and fitness writer
● I wrote 28 articles on my blog AmbitionOasis on the topic of Health and Fitness.
● I wrote over 20 books for my clients on this niche, including about Losing weight, Keto, Fitness training, Workout at home, No Salt No Sugar dieting, Intermittent fasting, and more.
● I wrote the following very informative articles:
             - What is Intermittent Fasting and Why It's So Cool?
             - Intermittent Fasting vs. Eating Less – Which One is Better?
             - The Mental Barrier of Intermittent Fasting
             - Why Restrictive Diets Don't Work and They Are Harmful to Your Body
● I wrote amazing reviews for Health and Fitness Clickbank products:
             - Eat Stop Eat Review – Honest Opinion Regarding This Weight Loss Book
             - 3 Week Diet Honest Review – 20% Coupon Code Included
             - 28-Day Keto Challenge Review
As you can see, I have a lot of experience in this niche, and you will get content that is well-researched and informative. I always back up my claims with scientific studies.
Check out my homepage to see my 120+ reviews, my rates, and everything else you need to know about what I can do for you.
I can write for you amazing books that you can sell or give away to your audience, SEO content that drives a lot of organic traffic and copy that sells your products or services.