I've written over 100 books and countless articles. I've helped many 6 figures businesses increase sales by using my text. I have over 100 5-star ratings on Fiverr. I'm a self-published author and a professional writer since 2008.
Drive Traffic Towards Your Business With Amazing Content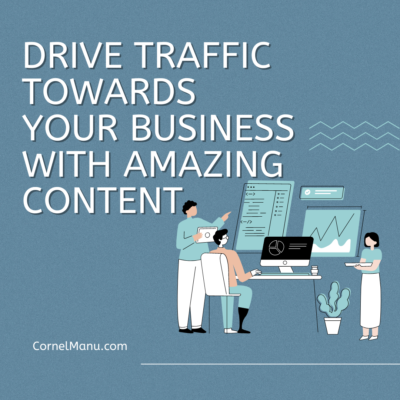 Content is everything on the internet.
Your business cannot thrive in this modern climate without having an online presence that brings a constant influx of people.
And while many methods exist for putting your business out there, nothing compares with driving traffic using a content marketing strategy.
Google is the king of search engines and it handles 3.8 million searches per minute on average across the globe by itself.
That comes out to 228 million searches per hour, 5.6 billion searches per day, or 2 trillion searches per year.
And these searches are made only on Google. People perform searches every day, looking for answers to their problems.
The focus of a business is to solve people's problems. The better you solve a problem, the more money you make.
However, not knowing something is a problem as well.
People want to make informed decisions before buying a product or a service. They want to know what it's there to know before clicking the "Buy Now" button.
Educate Your Audience And They'll Become Clients
Blogging is the best way to scale your business.
Blogging generates more sales by improving the ranking of your product pages and by boosting your brand awareness. By having a successful blog, you'll rank higher in search results when your target audience is looking to buy from you.
Search engines love to promote content that is useful for readers, and it will also rank higher websites that have many pieces of content related to a topic.
Research also proved that people are more inclined to purchase from a business that provides informational value.
Content marketing is imperative because it helps you build trust, improve conversions, develop relationships, and generate leads. Customers expect consistent, high-quality content from their favorite companies.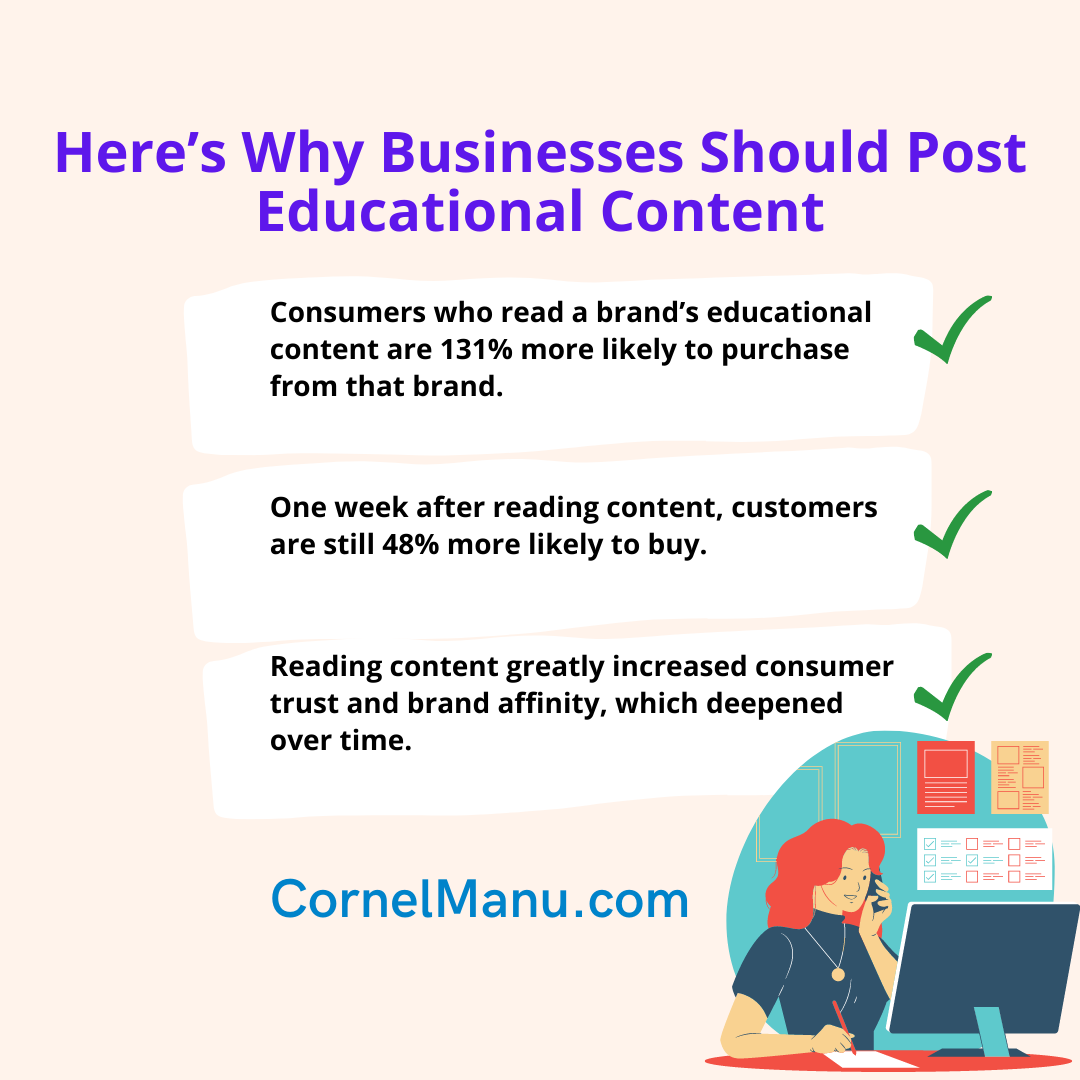 According to research, consumers are 131% more likely to buy from a brand immediately after they consume educational content. Customers also find brands more trustworthy after consuming their content.
Providing this useful content for prospects acts as nurturing. When you develop content that is valuable and engaging, it encourages readers to bond with your business. And what's even better, content marketing also drives significantly more website visitors and leads compared with other marketing strategies.
When it comes to social media, for example, there's a time limit attached to each social media post. At some point, that post will stop driving traffic and you'll see no results afterwards.
However, content on blogs brings a constant influx of traffic from people who search for that content online. Thanks to the cascading effect of the search engine ranking system, a blog only becomes more popular as it produces more content, increasing the amount of organic traffic it generates over time.
Develop A Sound Content Marketing Strategy
Content marketing generates more than 3X as many leads as traditional advertising methods, while costing 62% less. (Source)
Companies that regularly update their blog generate 55% more website visitors than those that don't. They also receive 97% more inbound links. (Source)
A recent study revealed that 80% of people appreciate learning about a business through custom content marketing.
All the numbers point to the importance of content marketing.
If you want to bring traffic towards your business and increase the number of sales you generate, you should focus your efforts on developing a content marketing strategy.
A content marketing strategy is a marketing strategy made to attract, engage, and retain your target audience by creating and sharing relevant SEO articles, podcasts, videos, infographics, and social media content.
Having consistency in producing content is as important as the volume of content. You need to make a plan for the next 3 or 6 months and stick to it.
And the best part is that you don't have to hire a writer to write all of these for you. If you hire a professional writer to produce high-quality SEO articles for you, the content from those articles can be used to create other types of content as well.
Now let's discuss what really means to write high-quality SEO content.
Focus On Writing Helpful Content
Can you still write content stuffed with keywords and drive organic traffic to your business?
No.
Keyword research is useful for determining topics and long-tail keywords, and these keywords should be used naturally inside the content to signal the search engines the purpose of your content, however, this is NOT as important anymore.
Power AI can now detect the topic of any written piece of content, and shady SEO techniques such as keyword stuffing are heavily punished.
Search engines care only about ONE thing - the reader.
If the readers love your content, which is determined by the time spent on page and other factors, then search engines boost your ranking so more people find your content. But if the readers leave the blog faster than it could fully load, then search engines consider the content is not good and it should be deranked.
If you have helpful content (that is also easy to read), people will spend time reading it, commenting on it, sharing it with others, and even linking to it. And all these factors will contribute to getting more and more organic traffic.
Content should also be insightful, as long articles over 1,500 words perform better in SERP than short articles.
It's also recommended to include a small Table of Content section at the beginning of long articles so people can easily skip to the part they're more interested in.
You should also include graphics to keep the readers engaged while scrolling.
Write The Content Yourself or Hire Writers?
Now comes the hardest part. When running a business, there's usually no time left for writing content.
And that is normal, as writing content is a hard job.
One should keep a part of their marketing budget especially for content writers. Publishing helpful content as often as possible is the best way to generate a constant growth in organic traffic.
It's recommended to stay clear from AI generated content or content written by cheap writers, as search engines become better and better at finding this type of content and penalizing it.
Your marketing budget should be a percentage of your business revenue. A good rule is that B2B companies should spend between 10 and 11% of their revenue on marketing. For B2C companies, the proportion is usually higher—between 10 and 15%. Smaller companies usually need to spend more on marketing.
From this proportion, around 40-50% goes to campaign planning and content creation, and 20-30% goes in paid advertising.
While the numbers vary for each company and industry, it's a good starting point.
Companies therefore usually invest half of their marketing budget on content creation. Hiring the best SEO content writers to produce high-quality blog posts and pages can make a big difference in the overall productivity of the company.
I Can Help You With Your Content Needs
I've been writing SEO content for over a decade for hundreds of companies from all over the world.
I write content that is engaging for the audience but also triggers the right SEO signals.
I research your target audience, the subject of your desired content, the keywords that can be used, and I compile amazing SEO articles that bring you the organic traffic you need.
Check out more details about my content writing service.