I've written over 100 books and countless articles. I've helped many 6 figures businesses increase sales by using my text. I have over 100 5-star ratings on Fiverr. I'm a self-published author and a professional writer since 2008.
SEO Content Writer For Hire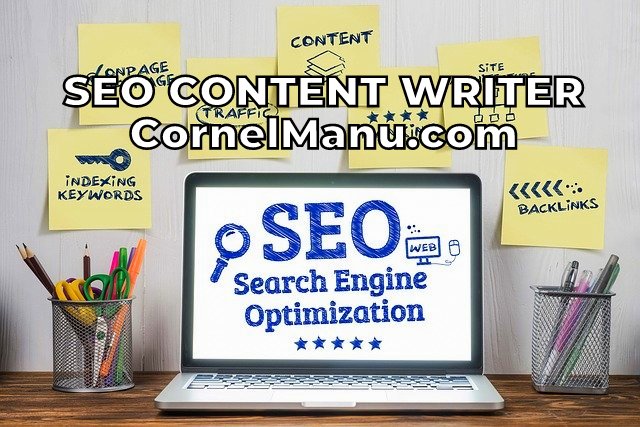 Do you need amazing SEO content to drive more organic traffic to your business?
Do you need a boost in sales with fresh new prospects that are truly interested in what you have to offer?
I can help you with that!
I'm Cornel Manu, an SEO content writer with over 10 years of experience.
SEO content is more than just inserting some keywords and hitting a word count. SEO content has to be well researched to make sure that it attracts the right audience, and then written with a friendly and compelling voice to make that audience stick.
Stop wasting money on low-quality content that brings you zero results.
I bet you've tried low-quality content before. You know how it goes.
You publish the articles, you share them on social media, and then... NADA. No increase in SERP, no extra organic traffic, no extra clients.
The problem is that you need someone that really knows what he's doing. Like myself.
I've written for big companies like Mazda, Kissmetrics, HomeDepot, IBM, Kajabi, and more. And I've helped them drive more targeted audience to their website and get more sales with my words.
The process involves researching your audience and the proper keywords, then craft a content marketing strategy that will drive a lot of organic traffic to your product or service.
And the content has to be compelling and attractive, just like the text you read here.
I know, mediocre text doesn't work anymore. We are all bombarded with so much material, that we're only attracted to something special, unique, and extremely well-written.
The truth is… your audience doesn't care about what you have to offer.
They only care about their needs.
My job is to write content that not only gets you noticed by Google but also meets your target audience's needs.
And that content has to be in tune with your brand's voice because that's how you get fans, not just customers.
That's why you should hire me. My SEO content will:
● Increase your SERP with long-tail keywords and even competitive keywords. You will rank nr. 1 on a lot of search terms.
● Bring you a surge of organic traffic that is interested in what you have to offer.
● Make a connection between your business and your clients.
● Provide a steady but constant increase in traffic and business.
Your business will bloom and your target audience will love the SEO content that you will give them.
The on-page metrics like time spent on page and bounce rate will indicate to Google that your content is loved by your audience, thus giving you a boost in rankings even more.
I can also write content about SEO if that is what you are looking for, as I've ghostwritten 12 books on this subject and hundreds of articles. I draw from my experience of studying and practicing SEO in 10+ years of freelance writing.
Are you ready to take your business to the next level? Tons of prospects want to find your product or service when they search online.
My SEO content will help you bring a generous increase in organic traffic, people that are ready to buy what you have to offer.
Buy 4 SEO articles and get 1 free.
Buy 8 SEO articles and get 2 free.