I've written over 100 books and countless articles. I've helped many 6 figures businesses increase sales by using my text. I have over 100 5-star ratings on Fiverr. I'm a self-published author and a professional writer since 2008.
Reef Tank / SaltWater Aquarium Writer For Hire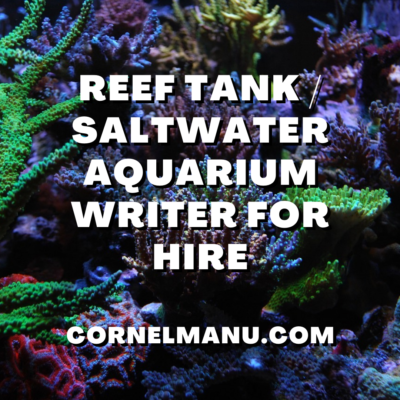 Are you looking to hire a freelance writer with experience in the reef tank space?
I'm the guy for you. I'm Cornel Manu, a freelance writer with over a decade of experience, and I've written for notable websites such as Aquaforest, Reef Hacks and Reef Tank Resources.
When it comes to reefing, you can't hire someone that simply researches the topic online and writes it. It simply doesn't work…
The reefing community is an experienced group of people who would easily identify content that is not written by a reefer. You need someone with a lot of experience in the field.
You need someone that understands the complexity of salt water aquariums, micronutrients and macronutrients, lightings, feeding schedules, types of corals and more.
Someone that can convert information into a fun but educational way.
Here are some of articles I've written:
This is a small sample of the content I've written. I can write about corals, fish, tank equipment, lighting, supplementation, and anything else that a reefer needs to know.
Hire me to get highly-informative content that is also SEO improved, so you get the best organic traffic towards your website or videos.
I can write your:
Website content

SEO articles

Video scripts

Social media posts

Emails

Ads

Books
Check out my website to see my latest prices and contact me now to hire me. I take a limited amount of work each month, so make sure to hurry and reserve your spot now.