I've written over 100 books and countless articles. I've helped many 6 figures businesses increase sales by using my text. I have over 100 5-star ratings on Fiverr. I'm a self-published author and a professional writer since 2008.
Memoir And Biography Ghostwriter For Hire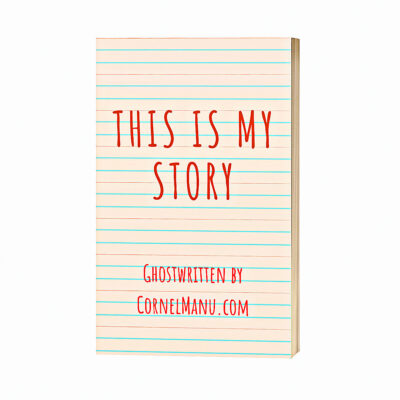 If you need a professional ghostwriter to write your autobiography, your memoir or the biography for someone you admire, I'm the writer for you.
With an experience of over a decade and a knack for crafting bestsellers, I can help you put your ideas into reality and write a book that will make you proud.
I've written biographies and memoirs for CEOs, celebrities, industry leaders, influencers and regular people that always had a dream to put their life story into a book that will forever remain in history.
Even simple lives can be told in extraordinary ways, so don't hesitate to contact me even if you believe your life is "not" that special. We can always sprinkle a little bit of fantasy or writing magic on it to make it more appealing.
I can also help you hide your identity if you don't want it to be known who you are.
I will help you with every step, starting from making a plan for the book, collecting the information I need (I'm a good listener) and then start writing it.
I do the heavy lifting for you, so you don't need to write a single word. All you have to do is enjoy the advantages of being a published author when I deliver the book to you on the specified date.
Why you should hire a ghostwriter for your memoir or autobiography?
Because it's hard to write a good book, even if you have a good story, so that's why you need a professional that knows what readers want and that can deliver to you a well-made book that will receive positive reviews.
You want someone with the experience of crafting bestsellers. I have over 100 bestsellers under my belt. I know what a book needs to be attractive. I write books that readers hurry up to devour.
And you want a ghostwriter that can spare you of the work and time that usually goes into a project like this. If you have never done this before, writing a memoir or biography can take you more than half a year.
I can deliver a bestselling book that you can publish immediately in under two months!
What is the difference between memoir, biography and autobiography?
An autobiography is the story of your life, from when you are born until the present time. It needs to include every important aspect of your life, included but not limited to getting married, pursuing a professional career, having kids, or overcoming life's struggles.
A biography you write for someone else also depicts their entire life. These biographies are usually ordered for someone they admire, either a parent, grandparent or mentor. They can be used for publishing or simply send as a gift.
A memoir is a story from your life, usually that follows a particular theme. It could be a story about how you overcame a big obstacle and found your inner strength, how you travelled the world and all the mysteries you found along the way, or simply a story about your pursuit of true love and what results came from that. Eat, Pray, Love, The Glass Castle and Walden are famous examples of memoirs.
The only rule in memoirs is that they must follow a common theme, even if the stories are not presented in chronological order. The point is to deliver a good story from your life experience.
In conclusion, the main difference between a memoir and an autobiography is that you can have multiple memoirs, but you can have only ONE biography.
If you are not sure what route to follow, I'll help you out with making this decision.
I'm The Ghostwriter That Will Bring Your Story To Life
I wrote dozens of memoirs and biographies, and even wrote books on how to write a memoir and biography.
I have the experience of taking your life story (or the story of someone you admire) and turn it into a bestselling book.
If you want to find out more details about my service, my rates, my reviews and samples of the work I've done, check out my page called Ghostwriting Service.