I've written over 100 books and countless articles. I've helped many 6 figures businesses increase sales by using my text. I have over 100 5-star ratings on Fiverr. I'm a self-published author and a professional writer since 2008.
Why You Should Hire an Expensive Freelance Writer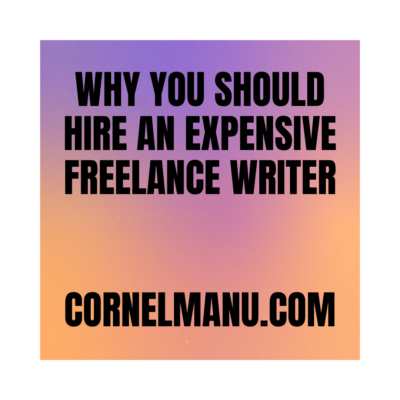 This is a subject that might interest people that need to hire a freelance writer.
You might wonder:
What is the difference between a writer that charges $0.01 per word and one that charges 10x more?
Why you shouldn't hire a cheaper writer and get more content for the same money?
I am going to answer these questions in this article.
I am Cornel Manu, a freelance writer with over 10 years of experience.
While this is the job I practice, I will do my best to give unbiased answers.
You Get What You Pay For
This is true for whatever service or product you purchase, right?
If you buy a cheap car, you can't expect to get the same features as an expensive one.
If you buy a cheap meal, you don't expect it to taste like a lobster.
You get the idea.
When you buy cheap content, 99.99% of the time is going to be poor quality.
Content made either by writers that can't spell properly or by using a software.
Why?
Because good writers know their worth and they are not going to sell their time for scraps.
Because good content takes time.
You can't simply make yourself produce more content in less time without diminishing the quality.
So a good writer knows their value and they will ask to be paid accordingly.
If you buy cheap content you will get very low quality.
Cheap Content Is Usually Worthless
Yep, you can throw it away right after you get it.
Why?
Because it's not going to engage readers to connect with your business.
Is not going to trick Google to send you traffic.
Is not going to give you anything in return.
Google and other search engines have become masters at identifying crappy content.
Plus, they will notice it once the users will spend less than 5 seconds on your website.
And that will result in a decrease in rank.
So you can take that content and throw it away, it's not going to be worth much.
Your Business Will Suffer
Can you imagine what bad content will do to your business?
People judge bad content more than anything else.
They will think your business is not professional and not worth their money.
Would you buy something from a brand that has grammatical errors?
Or from a brand that sounds like a drunken monkey?
Of course not.
You want professionalism and the best content they can write.
You want them to impress you to be their customers.
So don't shoot yourself in the foot by associating your business with bad content.
As you might know already, a bad reputation means the end of a business nowadays.
Google Will Hate Your Website
As I said, Google is getting better and better at filtering content.
Once they notice your content is badly written, you will be sent into obscurity.
Why?
Because they want to serve their visitors only the best results.
Your competitors will have better content, so they'd rather show them in the search results.
Google cares about how visitors feel about your website.
You should care as well.
And that's why you don't want to do this to your website and online presence.
Bad Writers Will Bankrupt Your Business
Do you know the secret of big brands' success?
"Just do it".
"I'm lovin' it".
"Think different".
"The Best a Man Can Get".
You got it right. Their writers.
A good copywriter can make your business successful by writing clever and engaging content.
A bad copywriter will bankrupt your business by writing awful content.
Is as simple as that.
You can have an amazing product or service. If your content is bad, it will reject your clients.
I can have the most unique diamond in the world.
If it's not polished, no one is going to buy it.
That's why you shouldn't waste your money on cheap writers.
Don't do that to your business and your future.
It's better to learn and write it yourself if you don't have the funds.
Then hire a professional copywriter and they will help you take your business to the next level.