I've written over 100 books and countless articles. I've helped many 6 figures businesses increase sales by using my text. I have over 100 5-star ratings on Fiverr. I'm a self-published author and a professional writer since 2008.
Gotham Ghostwriters Honest Review - Don't Work With Them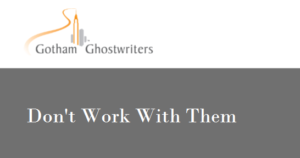 If you ever considered getting hired by Gotham Ghostwriters or finding potential writers with them, there's something you need to know.
I've been subscribed to them as a writer for a while with the promise that I will receive work offers after they saw my portfolio and said they like me.
I said to try, because why not? What could I lose?
In reality, these guys Emma and Dan, simply run a newsletter where they mostly blast their own books, news, blogs, and otherwise useless things.
They don't help writers get writing jobs, and they are particularly unhelpful when it comes to answering questions regarding a writing opportunity they rarely present.
And they plan on keeping a pretty big part of the money if you ever get a job with them. What are they being paid for? Promote their own launched books and published articles?
Paying someone a cut from your profits to be advertised with their products is really shady. If you try to tell them you only want to receive work offers, they will remove you from the newsletter.
This is the kind of reply you will get if you ask politely only to receive work offers. Do you see the passive aggressiveness in this reply?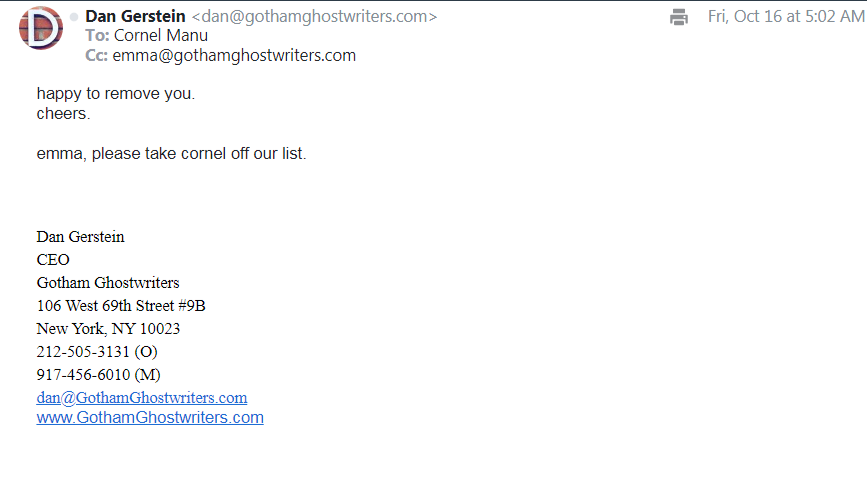 Therefore, as a writer you will be better on your own, finding clients directly and collaborating with them without having your details seen by these guys that ask for money to show you their promotions.
Because that's the only way to apply to jobs, you need to send them all your credentials, including work samples and whatnot. It's not like they sign a contract of confidentiality with you.
They just ask you to send them all your details because they run a newsletter.
If you want to hire writers, it's better to do it yourself than using this kind of shady middleman that acts extremely disrespectful with their pool of writers.
Simply make sure you sign a contract with all the details in it, check the reviews the writer has on multiple platforms and you should be golden.
This is my honest opinion about Gotham Ghostwriters and the way they operate.