I've written over 100 books and countless articles. I've helped many 6 figures businesses increase sales by using my text. I have over 100 5-star ratings on Fiverr. I'm a self-published author and a professional writer since 2008.
How Much Does A Ghostwriter Cost?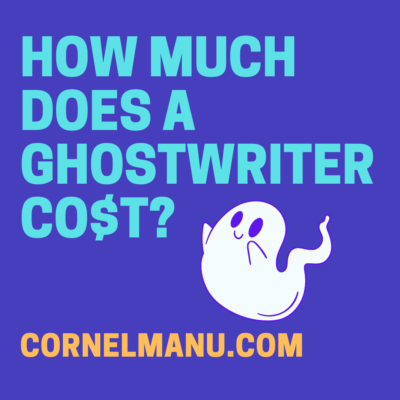 If you are wondering how much you should expect to pay for a freelance ghostwriter, you came to the right place. I'm going to answer this question for you.
I am Cornel Manu, a ghostwriter with over a decade of experience. I wrote over 100 ghostwritten books for my clients, and the majority of them became bestsellers.
Now back to your questions.
When it comes to ghostwriting, quality is 100% affected by the price you pay. If you hire a cheap writer, you can expect to always get bad content.
Because ghostwriting is a time-consuming task that requires years of experience to be done right. No one charging you $0.01 per word is going to write something of quality.
Cheap writers either use software to generate content, translated content or simply write badly.
So, the question remains. How much do you pay for a ghostwriter?
There are 3 types of ranges of prices that we are going to label. In our example, I will display prices on a per word basis and for a book that is at least 20,000 words in size.
Amateur Ghostwriters (less than $0.10/word or $2000)
These ghostwriters charge less than $0.10 per word or $2000 for a 20k words book. This type of content is badly written, without research, and will receive a lot of negative reviews on Amazon and other places it will be published.
Don't hire an amateur ghostwriter unless you are ready to pay the same cost for a developmental editor that will rewrite the same things, thus defeating the purpose of hiring a ghostwriter. You can record yourself talking the story, transcribe it and send it directly to the editor.
Professional Ghostwriters (between $0.20/word and $1/word; or between $4000 and $20000)
This is the category you want to start hiring from. Professional ghostwriters have years of experience and a proven track record.
While there isn't a starting fee everyone agrees on, I suggest the pricing starts at somewhere around $0.20/word or $4,000 for a book that is 20k in size. But some writers argue that the starting rate is at least $0.50/word or $10,000 for a 20k words book.
Every writer chooses their pricing, and it's very dependent on the years of experience they have, the industry they are working on predominantly and their personal preference. And the fee a ghostwriter has can change in time how many times they consider necessary.
These writers can deliver to you well-researched and well-written books that you can publish immediately. Some writers eliminate the need of hiring a developmental editor altogether, myself included.
The books written by these ghostwriters will be highly praised and have a big chance to become bestsellers.
Just make sure that the writer you hire has plenty of portfolio pieces and online reviews to backup their claims.
If you want to see my fee, check out my page Ghostwriting Service to see the updated price. I have over a decade of experience in ghostwriting and over 120 positive reviews.
VIP Ghostwriters (over $1 per word or $20000 for a book)
These ghostwriters write for celebrities, CEOs, influencers and other important people that have the wallet to pay for their service.
While the difference in quality between professional ghostwriters and VIP ghostwriters is debatable, the latter group simply has the connections to get hired by high-profile individuals.
There you have it. This is how much you should pay for a ghostwriter.
While paying for a cheap writer is attractive, the quality of the text is so poor that you could simply record yourself talking and you'll have a better shot at creating something worth of value.
A published book will represent you or your business in a way that will be etched in history. Publishing a badly written book will do more damage to your professional and author career than not publishing one at all.
If you don't have the budget to pay for a skilled ghostwriter, it's better to postpone the project until you have it.