I've written over 100 books and countless articles. I've helped many 6 figures businesses increase sales by using my text. I have over 100 5-star ratings on Fiverr. I'm a self-published author and a professional writer since 2008.
How To Find A Good Freelance Writer - Don't Hire One Before You Read This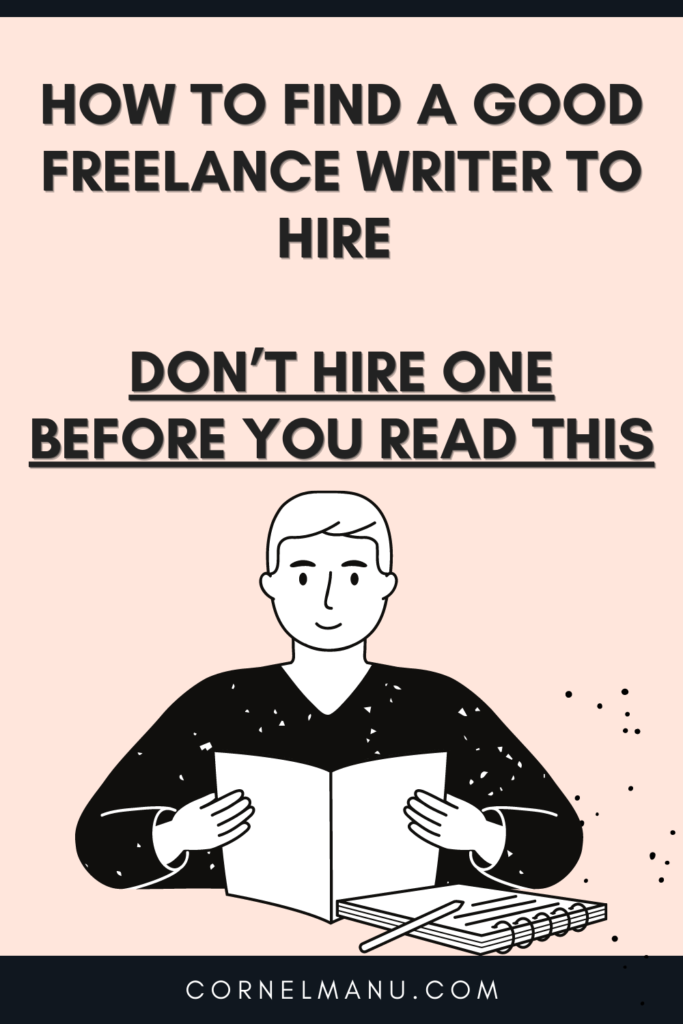 Freelance writers are everywhere nowadays.
You can throw a pen out of the window and you can hit one.
(Just kidding. We stay indoors mostly.)
The reality is that the number of freelance writers has grown up a lot in the last years.
That's why it's even harder to find good freelance writers.
In this article, I am going to help you identify good writers, so you know what to do to have a great experience with a freelance writer.
I'm going to tell you all the things you need to know to identify a pro writer and what are the things you MUST do to protect yourself.
That's why I recommend you read this article completely before hiring a writer.
These things apply to ghostwriters, copywriters, and content writers alike.
Where To Find A Good Freelance Writer
This is the least of your worries. Professional writers are everywhere.
You can find one on platforms like Upwork or Freelancer, or you can find one by landing on an article he wrote. *wink wink*
You can find one on social media platforms like Facebook, Reddit, LinkedIn, or Quora.
You can even find one on YouTube.
As a professional writer with over 10 years of experience, I try to put myself out there on every platform.
So, where you find a writer is not that important.
Here Are The Things You Need To Look At To Identify A Good Freelance Writer
This is the important part. These things help you filter good writers from scammers and low-quality writers.
Because there's plenty of low-quality writers out there.
People that use software to generate articles and people that can barely write something of substance.
Here are the things you need to look for to identify a good writer.
1. Portfolio
A good writer has a big and diverse portfolio. (Click to see mine)
And that portfolio is displayed on their own website.
If they don't have a portfolio of samples, that's the first sign you are dealing with a newbie or a scammer.
Also, stay away from those that have a portfolio displayed on Drive folders. Seriously!
When someone has a portfolio on a free platform that can be deleted right away or modified afterward, you cannot trust the validity of that portfolio.
If I would be a scammer and I would want to cover my tracks, I would put my samples on Google Drive.
2. Reviews
A great writer will have reviews for you to see on public platforms like Facebook, Google, and TrustPilot.
Having reviews on multiple platforms is a sign you are dealing with a legit writer.
If this writer also has a domain with their name, you know any bad things would be found on the internet if they existed.
For example, I have reviews on Fiverr, TrustPilot, and WarriorForum.
Having them on multiple platforms reassures my clients they are dealing with a professional that cares about his reputation online.
Besides, you can't build a reputation on multiple platforms without being legit.
3. Quality of writing
This may seem too simple, but checking the quality of writing is crucial to determine if you are dealing with a good writer or not.
People that use software to write articles or don't know English properly write a text that doesn't sound natural.
As soon as you read a couple of paragraphs, you can see if the language is natural or not.
Reading it out loud helps even more to identity good text.
If you know somebody with great English skills, send them some samples from the writer and ask their opinion.
4. Price
Believe it or not, the price of the freelance writer is a great indicator of quality.
Cheap content is 99.99% of the time crap that will derank your website and annoy your customers.
Trust me.
Professional writers know their worth and they charge accordingly.
Simply because writing high-quality content takes a lot of time.
Writing is easy. But you also need to do a ton of research on the topic, on the target audience, competitors, and so on.
That's why high-quality content is expensive.
That doesn't mean more expensive writers are always better than those that are more affordable.
You can find crappy writers that are expensive as well.
It simply means anything below $0.05/ word is low-quality content and you shouldn't waste your money on it.
5. Professionalism
This is the last aspect that can help you filter out a good freelance writer from a bad one.
How much professionalism do you see in him?
Does that freelance writer have a website?
Does he offer you contracts with his signature?
Does he offer you invoices with details of his business?
I do all of these things because this is my business and I'm a professional.
You shouldn't settle for anything less.
If you are dealing with a guy with a Facebook page and a couple of samples on Google Drive that you cannot test for originality, you are going to have a bad experience.
The level of professionalism you find in your freelance writer will be proportional to the quality you get.
What To Keep In Mind When Hiring A Freelance Writer
There are a couple of DOs you must keep in mind when hiring a freelance writer.
1. Discuss payment terms clearly
You want to know exactly how much you are going to pay for your project.
Some writers will give you an estimate based on how many hours they think your project is going to take them and then expect you to pay if there are extra hours.
However, I prefer to give a flat fee based on the number of words.
I consider this is easier for me and the client.
Expect to pay at least 50% upfront, because that's how the majority of writers work.
For small projects, I take 100% upfront.
Considering you will be protected by the next tips, your money won't be at risk.
But a writer needs to protect his time because many can place an order and then change their mind, basically wasting valuable time from the writer.
2. Discuss the estimated time of delivery, revisions, and legal terms
The writer should tell you exactly how much time your project is going to take, how many revisions you will get, and if you get full rights.
I usually offer my clients 3 free revisions for the work they ordered, so we can make sure every single detail or preference has been touched.
I can write at least 1.000 words per day, but that fluctuates on the complexity of the project.
3. Sign a contract before you pay a single cent
Never pay a freelance writer without a contract, unless you pay something minor to test their quality (if they have reviews and portfolio).
Make sure that the contract clearly states the work, timeframe, legal terms, confidentiality, and what happens if the writer doesn't deliver the work.
You can use the template from this website https://www.printablecontracts.com/Writer_Ghostwriter_Agreement.php to see how a contract should look like.
Make sure that the contract is signed by both parties by hand (and scanned), or use a service like HelloSign.
If your project is big enough and you want to be even more sure, you can contact a lawyer to check the contract before signing it.
Another way to protect yourself is to pay upfront for smaller parts in your project.
Let's say you want to order a 50.000 words book.
You can pay upfront every 5000 words, so you can be sure that you are not risking all your money at once if this is the first time dealing with a particular freelance writer.
So you will have 10 payments to make.
This way you are protected and the writer won't work for free.
4. Use safe payment methods
When you are dealing with a freelance writer for the first time, keep in mind that some payment methods are riskier to use than others.
For example, if you pay by Bitcoin or Western Union, you won't have the possibility to file a chargeback if something is wrong.
The same goes for bank transfers.
But when you pay with PayPal, Stripe, or other payment processors, you can file a chargeback if you are scammed.
On PayPal for example, you can file a chargeback if the transaction happened in the last 90 days.
I am verified with PayPal and I always offer my customers invoices with all the contact details in them. This way, we are both protected.
5. Don't be afraid to ask questions
A good freelance writer will always be open to answering your questions, no matter how simple or dumb they seem to you.
There's no silly question when it comes to your order.
It's better to ask and to know everything beforehand than not say anything and regret it later.
What happens if you have doubts?
If you have doubts, ask to do a paid test.
A paid test will tell you a lot about the freelance writer without risking too much from your part.
You will learn everything you can about their writing style, the quality of their work, and their promptitude from a simple test.
Don't expect to get free work thought, time is valuable and no writer is going to waste their time with free tests.
A couple of DON'Ts when it comes to working with a freelance writer.
- Don't expect to get free work. Time is valuable, and there's no piece of quality content that doesn't require research and a lot of time thinking.
- Don't expect to get scammed. Follow the rules I told you but don't expect everyone to be a scammer. This thinking breeds a negative attitude that will make the writer feel unconformable with you. If someone has a strong portfolio and plenty of reviews, you can trust them.
- Don't demand faster delivery times or extra revisions. If you didn't agree with what you want before paying, it's not the writer's fault. Make sure you know what you want before making a payment.
- Don't be bossy and all-knowing. Nothing is more annoying to a writer than someone who thinks they know better. Let the writer do their job and you will have a lot of quality to gain. This is especially true in copywriting, where a writer knows better what tone and language to use to attract your target audience.
- Don't pressure a writer for a discount. You can ask if they can give you a discount, but if they don't want to get paid less, pressuring them into accepting your project is not going to create a positive working relationship. This usually stops creativity.
Final Words
Don't rush into working with a freelance writer.
Take your time to examine if that writer is the best choice for your needs.
Ask questions and communicate with that writer and see what kind of relationship you can build.
It's your money on the line, and you should be careful where you spend them at.
At the end of the day, when everything is right you are going to feel certain this writer is what you need.
You should only accept a project if you feel that writer is the best example of professionalism and expertise.