I've written over 100 books and countless articles. I've helped many 6 figures businesses increase sales by using my text. I have over 100 5-star ratings on Fiverr. I'm a self-published author and a professional writer since 2008.
How and Why It's Important to Analyze Traffic to your Site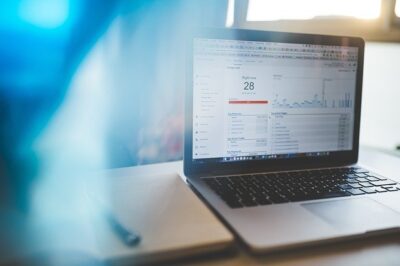 The majority of small businesses neglect the power of web analytics. They think it's not that important or they have never heard of it before.
Keeping track of people that visit your website and choose to do business with you is a small thing that can bring valuable insights. What's equally important is finding why some people don't convert and what you can do to fix it.
It's a small thing because you set it once and then you forget about it; the web analytics platform will gather the information about your visitors automatically.
Your business is never too small for web analytics, and the sooner you start the tracking the better it will be down the road. Sometimes important changes in traffic can happen overnight, and business owners should be prepared to track those changes and the conditions that made it happen. Because you can only replicate what you know.
And considering the best web analytics tools are free and easy to install on your website, there's no reason to spend even a second more without one.
Let's talk about the main advantages you get from analyzing your traffic.
1. You will know your visitors well and will have the insights to improve user experience
One of the most important advantages of web analytics is the ability to learn about your visitors. You'll know details such as demographics, where they come from, what pages they like and how much time they spend on your pages.
These insights will provide valuable information regarding who your ideal clients are and where they come from. You can also detect user experience problems and fix them promptly. Most of the time, fine-tuning your website and improving the user experience is much more productive than any other changes you can make.
Besides, the potential for sales is already there. You just use the analytics to bring it to life.
Consider the relevant info you'll find about your visitors:
- Device breakdown: If you have a big number of visitors from mobile devices, that's a clear indicator your website should be mobile-friendly.
- Location and language: Sometimes the location and language used by your most predominant customer might surprise you. Knowing their language needs, you can translate your website to satisfy the demand.
- Age and interests: Knowing the interests and the age range of your audience will help you mold your services to meet their needs.
2. Find your best content
When you publish SEO content on your website or blog, you never know what will work well and what will flop. The number of likes and comments is rarely a reliable indicator, therefore web analytics is the way to figure it out.
Why is it essential to find your best content? To know what to focus on and to know what needs improvement. Sometimes small SEO changes to a page can bring a boost of traffic and results. You'd never know what pages need improvement without a traffic analyzer.
And knowing what your audience likes reading and what type of content makes them tick are the keys to meet their needs even more.  Bounce rate (the percentage of visitors that quickly leave your website upon arrival) and time spent on page are clear indicators of content quality.
3. Better SEO
Search engine optimization (SEO) is a very important part of your business growth. As you optimize your website for search engines, you get more organic traffic, and therefore more clients.
However proper SEO for a website is done only with a comprehensive list of web analytics. You need to know where your audience is coming from, what keywords they use when they find your pages and what pages are underperforming.
With web analytics you can also track your top referrals and develop strategies to improve the traffic they generate. For example, you might see that your website is getting a lot of traffic from a certain social media platform, and therefore you know to focus especially on that platform.
4. Track eCommerce metrics and use them to get more sales
No matter what you are selling on your website, web analytics will provide detailed reports on top referral sources, conversion rates, top products and so on. With all this comprehensive data you can develop strategies to boost your sales.
What are the stories that your analytics is trying to tell you? Some product pages that need more attention? Some items that need to be added to the homepage because people love them?
Even if you don't do it now, at some point you will want to use these metrics to improve your sales and you need a big chunk of data to make productive choices.
How to analyze your web traffic
One of the best web analytics tools that is also free is Google Analytics. You set it up once by placing a piece of code on your website and then you enjoy all the benefits of tracking your visitors. See how you can install the code here: https://support.google.com/analytics/answer/10269537
Once you install the code on your website you can access the Analytics on the web at https://analytics.google.com/ or on their official Android and iOS app.
Using Google Analytics goes beyond using one of the best tracking tools there is, it is also a great platform that uses machine learning to know all it can be known about your audience. And when you combine it with the power of targeted Google Ads, you can quickly understand why this is one of the best tools to use.
If you want to try something simpler, Statcounter is a web traffic analyzer that is easy to use and free to some extent. The most basic details can be accessed for free, but the data is stored only for 5 weeks on free plans. If you want to see who visited your website 6 months ago and from what website they came from, you need to have a paid subscription.
Some website owners argue that using a simpler web analyzer such as Statcounter helps them better understand the data, since the amount of information found on Google Analytics can be overwhelming and hard to understand.
For those that want to use the simplicity of other platforms on Google Analytics I recommend using a dashboard for this purpose. A dashboard in Google Analytics is a collection of data visualization (or widgets) that are laid out on a single page. Therefore you can see key metrics from multiple areas of interest in one place.
And the best part is that you don't have to create these dashboards yourself, you can use dashboards created by other people and simply import them into your Google Analytics account. For example, this collection of 10 Google Analytics Dashboards from Databox is more than enough to find a visually appealing but comprehensive web analytics page.
Nothing beats Google Analytics in terms of performance and price since it's 100% free and you can access all the data you have gathered over the years. Google Analytics also integrates well with all SEO tools that you might use. That's why it's the most recommended web traffic analyzer for your business.
Conclusion
Web analytics are a key part of growing your small business and knowing exactly what to improve and where. Having the information to make important upgrades on your website interface and pages will make a difference between your business and your competition.
You'll also know what channels bring most traffic and what keywords are used by people to find your pages. All in all it is a great tool to keep track of your audience, where they come from, what they like to see and what you can do to improve user experience.