I've written over 100 books and countless articles. I've helped many 6 figures businesses increase sales by using my text. I have over 100 5-star ratings on Fiverr. I'm a self-published author and a professional writer since 2008.
9 Effective Ways To Get More Customers For Your Business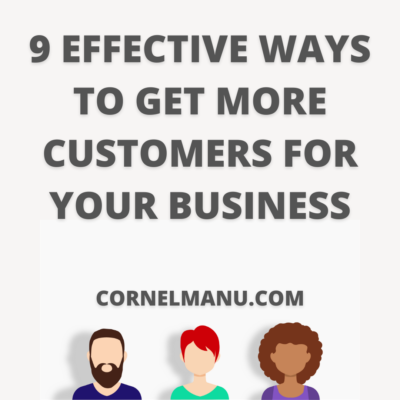 All businesses need to make sales, no matter the industry or size. Increasing the number of clients you get might be difficult if you don't try something new.
Why something new?
Your competitors already do the things you do, so you need to up your game and do some innovative stuff. The better you get at acquiring customers, the faster your business will grow.
Lack of sales is what kills businesses more often than not.
In this article, you are going to find 9 fresh and effective ways to drive more customers to your business.
While there's no free way of getting more customers, the methods you are about to read are cost-effective and will bring a lot of profit with them.
Fix your website
A slow website will reduce the number of potential customers. People don't have the patience to wait for a slow website anymore.
If you decrease your loading time from 8 seconds to 2, you will increase your conversions by up to 74%. That's what research is telling us.
But you don't need a study to know that. You've been to slow websites, and you know how easily you hit the back button if it takes too long to load.
If you are using a CMS like WordPress, there are plenty of online guides on how to speed it up, or you can connect your website via CloudFlare and use their free CDN to speed up your load time.
Increase your website speed and you might be surprised by the number of customers you get.
Offer discounts and promotions
Discounts and promotions are always a nice way to attract the customers that weren't sure if they should order from you or not. Companies usually have periods of time when they offer promotions (such as Christmas promotion or New Year promotion), and that helps them increase the influx of clients.
The money you lose by offering those promotions or discounts will return tenfold when you acquire loyal customers that will keep buying from your business all year round.
And since people love to get discounts, you'll always get an increase in sales because of it.
Do a contest
Contests are another great way to attract more customers, and I'd say they are much cheaper to do.
Everyone loves the possibility to win free stuff, so why not take advantage of it and use your social media platforms to host contests. Make it part of the rule for your participant to share your page and therefore you'll get a great influx of new clients towards your business.
This newfound awareness will definitely remove the dust from the sales numbers and create momentum for future sales.
Ask for referrals
A great way to spread the word about your business is to encourage your clients to become referrals.
This is usually done with a referral program that keeps track of how many people they brought so people can receive a reward for it.
If you can give the one they refer a discount for a first-order that will create even more passion for them to become clients.
Partner with complementary businesses
Complementary businesses can help each other reach new people and increase their number of customers. I understand there's no reason for your competitor to join forces with you, but a business from a complementary industry will love the idea.
For example, a baby products website can work together with a maternity clothes website and offer discounts to each other's clients.
It's a win-win situation that benefits both companies involved.
Participate in community events
Showing that you care about your community is a great way to get your business name out there and get new clients at the same time.
You can hold a sponsored run to support an important cause, supply communities in need with your products, or simply donate part of your profits to a certain charity.
Showing that you care about people will greatly increase the odds of getting new clients for your business. Kindness is always appreciated and rewarded.
Ask a copywriter to fix your copy
The message you have on your website, emails, or ads is extremely important for converting potential clients to paying fans. This text written with the purpose of converting your customers is called copy.
If the message is not delivered with the needed clarity, professionalism, and intent, it will fail to attract the customers into making a purchase.
It's like having a high-performance car with a very ugly exterior. You can have the best engine inside, no one is going to buy it if it's not aesthetically pleasing.
Good businesses fail because of bad copy.
That's why hiring a copywriter to fix the text you have on your website, social media, emails, and everywhere you interact with your customers can make a substantial difference in how many sales you generate.
If you invest money on more ads without having a good copy, you are throwing money out of the window.
I've worked with hundreds of companies in my copywriting career, and in some cases, I've been able to increase conversions by up to 300%. That means those businesses missed a lot of opportunities before I took care of their website.
The opportunities are already there, you just need to make them convert.
If you want to learn more about it, read my article Why Hire a Copywriter to Increase Your Sales and Leads. 
Post SEO content for organic traffic
When people want to buy a product or service, they go to Google and perform a search.
And Google will display the businesses that they find most suitable for what the potential client is looking for. Not having SEO content to attract prospects interested in what you have to offer means that you are missing a big opportunity.
SEO content is a free source of traffic that never stops bringing people that are ready to buy. It's the investment with the best ROI, better than any kind of paid ads.
You pay for SEO content once, but you enjoy the benefits forever.
If you want to know more, read my article SEO Copywriting - How to Get Organic Traffic and Sell Like Crazy.
Write a book in your niche
This last tip on how to get more customers for your business might surprise you.
Publishing a book is a very effective way of increasing your exposure and bring a lot of clients from an audience that you wouldn't be able to reach otherwise.
There's an ocean of avid readers that will be thrilled to find about you and your business.
You can also use the book as a promotional tool, giving it away at contests or offering it as a "thank you" for buying from you.
Not to mention you can be invited by media outlets to speak as an author.
The profit generated from selling it can be used to promote the book via ads on Amazon, thus increasing your exposure even more.
I've worked with entrepreneurs from all over the world, and each one of them reported an increase in business numbers after publishing the book.
Read my article 5 Reasons Why Every Entrepreneur Should Publish A Book (Infographic) to find out more about it.
There you have it. 9 ways to get more clients for your business, some more creative while others very simple to apply.
I hope this article was useful and you found at least a couple of ideas to apply for your business.
What other methods you would use to get more customers? Leave a comment below.