I've written over 100 books and countless articles. I've helped many 6 figures businesses increase sales by using my text. I have over 100 5-star ratings on Fiverr. I'm a self-published author and a professional writer since 2008.
50 Advantages You Get From Publishing a Book
Publishing a book can bring a lot of advantages for small and big businesses, included but not limited to more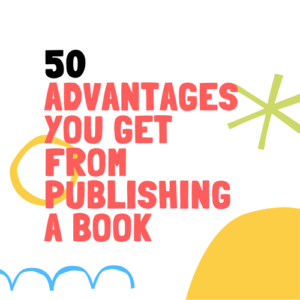 marketing, promotional and business opportunities.
I have over a decade of experience in ghostwriting, and I've seen these advantages for many clients.
And I've decided to make a list with 50 advantages you get from publishing a professional book done by a skilled ghostwriter.
You will attract more customers. This is the bread and butter for any business, no matter how big or small. Publishing a book helps you attract more clients to your business.
You'll be seen as an authority and leading expert in your field. This aspect is very important to earn the trust of your customers because people don't do business with companies they don't trust.
You will discover details about your industry that you might not have discovered otherwise.
You will gain publicity.
You open the doors to be invited to speak to events and conferences.
You will make new contacts for your business, even if we talk about future business partners or investors.
You can take parts of your book and turn them into blog posts to attract even more organic traffic to your business. As a professional ghostwriter, I will write compelling text that will sound amazing in any format.
You can use the Amazon platform as a marketing tool.
You can offer your book as a gift to special clients or business partners.
You can do book signings.
You can publish free sample chapters from your book on your website.
You can link your book into your email signature for extra exposure.
You can make a profit by selling the book in various retail outlets.
You will look special and stand out from your competitors.
When you will meet individuals that have read your book, they will feel like they know you. That can smooth out any business relationship.
You can carry copies of your books and hand them out to people that might be interested.
You can expand the content from your book into other business opportunities, like courses.
You can sell or give away your book on your website and collect contact details from people, with their permission.
You can turn your book into an audiobook for even more exposure.
You can get book reviews, that will attract more eyes towards your business.
You can promote your business with a book launch.
You can submit your book to be placed in libraries.
You can create a Facebook group for your readers.
You will gain valuable feedback from readers that can be used to improve your services or products.
Your new book can be an amazing business card.
You can reach out to leaders in your industry and offer them a copy at a discount.
You can market your book even before it comes out, which is a good idea!
You can submit excerpts from your book as articles to websites or magazines.
You can turn it into an eBook and launch it digitally as well.
You can give away copies of your book as prizes at events.
You can use your book as a tool to develop your brand.
You can send your book before a meeting to people involved, so they get to know you beforehand.
You can give copies of your book to business partners, so they can use them in their promotions, marketing or events.
You can submit your book to National Libraries.
You can have a CTA at the end of your book that sends people to your website.
You can send your book to clients you haven't seen in a while.
You can develop a social media campaign to promote your book.
You can put useful info on your website for your clients that are only accessible for your readers.
Your potential clients will trust you more, and that will make it easier to sell to them.
You can sell and promote your book internationally.
You can write a series of books.
You can increase the prices of your business because authorship makes you a leader in your field.
You can get testimonials from your book readers and post them on your website.
Your published book will seal the deal with the clients that thought about doing business with you but weren't sure.
You can translate your book into other languages and publish it.
You can turn content from your book into promotional material.
You can create a podcast from your book.
You will attract great suppliers, team members, clients and partners to your business because you are seen as a leader having this amazing book in your name.
You can promote your business with other authors by participating in their books.
You can write a new edition 18 months later to get the promotional engine back again.
Here are the 50 advantages you get from publishing your book. Your business will grow and your authority in the field will become stronger than ever.
And the best part is that you don't need to waste time with this. You can hire me as your professional ghostwriter with over a decade of experience to take care of it for you.
Check out my homepage to see what I can do for you.
I have the experience and knowledge to write a bestseller that you can publish under your name.